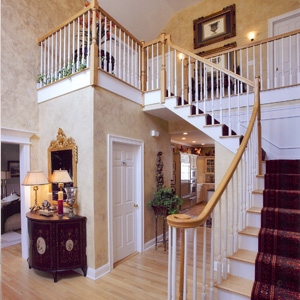 Redecorating your home can be an exciting process, but sometimes the sheer number of options is intimidating. Many people ask, "How do I start choosing colors for my home?" Knowing where to start can help reduce the stress and ensure pleasing results. When selecting colors for interior repainting, professional designers recommend beginning with connecting spaces to achieve a unified, flowing feel throughout the home.
Designing the color scheme for an individual room is fun and seems like an easy place to start. If, however, each room is painted as its own unit, the effect of walking from one room to another feels disjointed or abrupt. It is much wiser to begin color selection in open, connecting areas of the home, such as the entry area, hallways and stairwells. This provides a foundational palette to branch out from, so that each room of the house can be unique and creative, and still retain a sense of harmony.
Professional house painters and designers generally choose a light, neutral color for the foundation, to allow for the widest possible range of options to coordinate the other rooms. While the term "neutral" may sound dull, it does not have to be! There are hundreds of options, both warm and cool, that can be found in the gray, beige and off-white families, with additional undertones of brown, yellow or green. White trim is a classic way to add visual interest to connecting spaces in neutral palettes, but you can also be creative with decorations and furniture to avoid an institutional feel.
Once the connecting palette is established, myriads of color combinations exist to express your individuality throughout the home. Be inspired by your decorative rugs, the furniture, a favorite painting, a season, or a memory!
Do you have ideas for a painting project, but you would like some professional assistance in determining your exact design? A.G. Williams offers professional color consultations to help you select the right look, feel and mood for each part of your home. With offices in Old Greenwich, CT and Pelham, NY, we provide residential painting services to White Plains, Scarsdale, Bronxville, Greenwich, Armonk, Chappaqua and all of Westchester and Fairfield Counties.