Certain kinds of messes we notice immediately, such as spilled coffee or muddy footprints, but some kinds of soiling build up over time, like smudges and fingerprints on walls. It seems like you just painted that wall, and one day you notice it looks dingy or has a bunch of hand prints. Now it's time to clean the painted wall, but how? Can you remove smudges without damaging the paint?
If your wall is painted with a low-quality paint, or paint with a flat or satin sheen, you are probably not going to be able to wash the wall. Any scrubbing is more likely to remove the paint than the blemish. But with high quality paints and paints with an eggshell or semi-gloss sheen, you will be able to perform some minor washings without any consequences. Just warm water and a gentle sponge is likely to remove simple dirt and grime. A slight addition of ammonia can also help.
Whenever you go to wash a wall, make sure to test the cleaning in an inconspicuous area first, such as behind the couch or in a dim corner. Whether you wash top to bottom or bottom to top, watch out for drips and dry the wall with a towel as soon as you are done.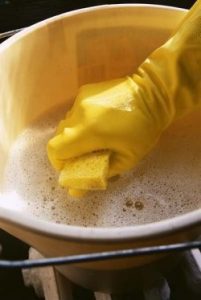 In high-traffic areas of the home, such as entryways, hallways, kids' rooms and mudrooms, you will find that hard-to-remove smudges and fingerprints build up with surprising speed. Often the only way to make a dirty wall appear fresh and new is to put a new coat of paint on it.
A.G. Williams, a New York and Connecticut Painting Contractor, has created our Painter 4A Day Program for just such a purpose. We can repaint a worn-looking wall, touch up your baseboards, add an accent wall, caulk your tub and much more.
One option that many homeowners choose is a paint maintenance program, where our painters come to the house once a year to freshen everything up. We can touch up any sullied walls or scuffed baseboards, freshen up any faded or damaged areas, and also keep your exterior paint in good repair. Regular paint maintenance has two important benefits: it keeps your home always looking fresh and new, and it keeps the paint in good shape so that full repaintings are few and far between.
Read these tips if you are thinking about hiring a painting contractor.
Serving New York and Connecticut with expert painting and carpentry, A.G. Williams is a reliable and courteous painting contractor. We provide painting services to Westchester and Fairfield county including Greenwich, Old Greenwich, Bedford, Pleasantville, Irvington, Briarcliff Manor and beyond.