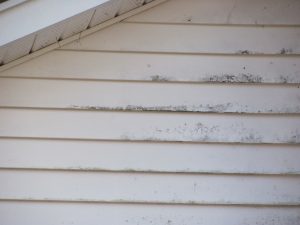 Winter weather often leaves its marks on our home exteriors in a variety of ways, including gray/brown dirt and mildew growth. The buildup is gradual, and we often don't notice it happening until we step back and take a good look: do your whites look a bit dingy and grey? Are there streaks or spots on your siding? Mildew is especially prone to grow on the north side of the house–how does yours look?

With the temperatures rising and the days getting longer, now is a great time to wash away the memory of the colder months and have your house spruced up for spring! A.G. Williams' experts are not just professional painters–they are also experienced with pressure washing and mildew removal.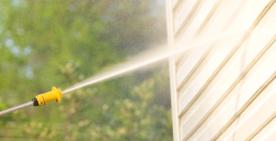 Power washing takes an expert touch in order to remove mildew and dirt without removing the paint or damaging the surface. Too little pressure will leave the dirt undisturbed, too much pressure will etch the wall, and an unsteady stroke will leave streaks and lines behind.
Read these tips if you are thinking about hiring a painting contractor.
At A.G. Williams, we know how to take care of your home, restoring and protecting its beauty. Our pressure washing teams will be sure to leave your house exterior shining again!
A.G. Williams' power washing and mildew removal is a great way to clean your:
– Wood, Vinyl, Aluminum or Masonry Siding
– Patio, Deck or Fence
– Driveway, Sidewalk or Walkway
– Gutters
– Garage Doors
– Roof
Our pressure washing crews can also use a mildewcide spray prior to washing that will kill spores and slow down future fungal growths.
A.G. Williams serves New York and Connecticut with painting and renovation services, from Larchmont to Briarcliff Manor, and from White Plains to New Canaan.