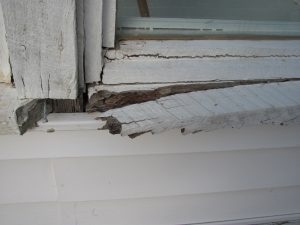 As the seasons progress, sunshine, moisture and cold weather cause great damage to our exterior woodwork. Exposure to these elements often leaves us finding rotten boards in our siding, trim, decks, fences and railings. Sometimes a small patch of rotten wood can be cleaned out like a cavity, then filled and repainted. Usually, however, the best solution to rotten wood is to replace the board.
In an effort to economize, homeowners sometimes try to replace only the rotten portion of a board. This is not ideal because it creates more seams in your woodwork, and each seam is both a visual flaw and a possible leak point.
When replacing a rotten board, it is important to prime all sides of the wood, even if they will be facing inwards. This will help to prevent future warping and rotting.
Read these tips if you are thinking about hiring a contractor.
A.G. Williams, a painting contractor serving Connecticut and New York, also performs carpentry repairs and upgrades. We can replace rotten wood siding, trim, deck boards and railings. We can upgrade old windows and doors, and even remodel a bathroom or kitchen.
Serving Westchester, Fairfield, Putnam and Rockland counties, A.G. Willims is your full-service painting contractor.