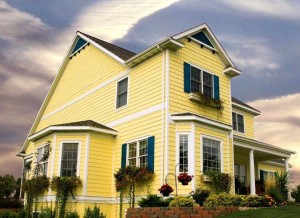 Everyone knows that here in New England, the winter months are not the time for exterior painting. But besides that, when is the best time to paint outside? The truth is that spring, summer and fall can all be a good time to paint the exterior of your home, but the spring has several advantages.
One reason to paint your home exterior early in the season is that homeowners are generally trying to spruce up the outside at that time anyways. If you area already cleaning the siding and washing the gutters, why not take advantage of the time to paint while you are at it. If you save your exterior painting for later, you'll have to clean again.
Spring is also a time when we like to plant flowers and re-mulch the garden. If you are going to paint the outside of your house, you will want to do so before you put all that work into the garden, so that the tarps, ladders and foot traffic don't ruin your hard work.
An additional consideration is that paint cures best at mild temperatures and with low humidity, meaning spring is better than summer for exterior repainting projects. Lastly, if you paint in the spring, you will have many more months to enjoy your renewed exterior before the winter months come around again!
Read these tips if you are thinking about hiring a painting contractor.
As a professional painting contractor, A.G. Williams is your choice for house painting in any month, whether you need interior or exterior work. We offer numerous painting and renovation services, from deck refinishing to kitchen remodels. Serving New York State and Connecticut, A.G. Williams works in Westchester, Fairfield, Putnam and Rockland counties.