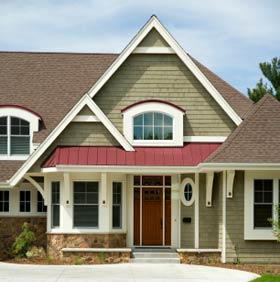 Choosing exterior paint colors for your home can be an intimidating process: Will I like it? Will I be able to sell my house? Will it look good beside the neighbor's house? There is no right or wrong way to go about choosing house colors–it is both an art and a science! Here are a few ideas to get you started as you choose your house colors:
Keep your eyes open as you drive around. Look at the houses that you see and ask yourself, "do I like that?" Carry a digital camera (or use your phone) and snap photos of homes you like. You can also browse sites like Pinterest and Houzz, and see if there are exterior color schemes that catch your eye. As you gather a portfolio of ideas, look for patterns or similarities–are there specific colors that you keep coming back to? Don't feel bad to copy… use them!
Walk through your neighborhood and look closely at what others are doing with their exterior paint. Typically, homes near you will be the same architectural style, and the colors that work for them will probably also work for you. You also want to take the neighbors into account, since you don't want your home to clash when viewed in relation to their houses.
Use the color wheel. Complimentary colors (opposite on the color wheel) make a bold contrast, while adjacent colors (side by side on the wheel) offer a harmonious pair. Another option is to use varying shades of the same color, using a light shade for the walls, and darker versions of the same color for the doors, windows and trim. Finally, you can play it safe with a white or light grey/beige on the walls, and add some originality and flair with bold reds, blues or greens on the trim and shutters.
Ask your painting contractor if they offer color consultations. A.G. Williams, serving Connecticut and New York, offers expert color advice from trained professionals. We offer you the benefit of over 100 years of painting experience, and we can help you envision how your home will look with different color choices. Serving Pleasantville, Riverside, Stamford, Bronxville, Rye and Sleepy Hollow, A.G. Williams is your exterior painting contractor!
Read these tips if you are thinking about hiring a painting contractor.