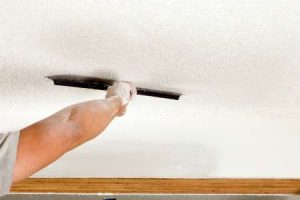 Some trends come and go quickly, while others seem so long-lived, we don't even think of them as trends. White ceilings are a perfect example. For decades, no one seemed to question them; it wasn't a design trend… it was simply the way you did things. Recently, however, designers and homeowners have felt the winds of change, and a welcome new breeze is blowing away plain white ceilings and popcorn texture, leaving behind them an exciting new array of decorating possibilities! So should I paint my ceiling? Yes!
If your ceiling currently has the old popcorn texture, the first step is to remove it. Popcorn ceiling removal can be done by a homeowner, but it is messy and time-consuming, also requiring new spackle or skim-coating afterwards. Additionally, many popcorn ceilings installed before the mid 1980's contain asbestos, and should only be removed by a qualified professional.
Choosing the colors to paint your ceiling should be a fun and exciting process. There are a few basic tips to keep in mind when painting ceilings:
> using a different shade of the main wall color is the safest choice.
> use a lighter shade if you want the room to seem taller. Go darker if you want to visually lower the ceiling.
> use a flat sheen
> if your walls are a neutral color (some shade of tan, gray, off-white, etc), you can use a bold, rich ceiling color. Make sure it coordinates well with some other detail in the room to provide balance. This is a very striking look, but it must be done cautiously.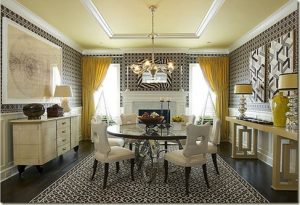 If you are looking to make your ceilings truly stand out, you can also use decorative trim to increase your options. Some people create a frame on the ceiling using moldings. This gives the a visual break so that you can have two colors on your ceiling, one inside and one outside the frame. Another option is to use a medallion around the light fixture.
In rooms with a tall ceiling, another option is to install molding on the walls around the perimeter of the room, 6 to 12 inches below the ceiling. Then, extend the ceiling color down onto the top portion of the walls. This creates a very elegant, distinguished appearance.
A.G. Williams, a residential painting contractor in New York and Connecticut, can help you with every stage of painting your ceilings, including removal of the popcorn texture, installation of moldings, selection of colors, skim coating and painting. Don't keep living in a box with a bumpy white lid; instead, make your ceiling a work of art!
Operating out of Pelham and New Rochelle, A.G. Williams provides painting services to Greenwich, Irvington, Rye, Riverside, New Canaan and the surrounding counties.