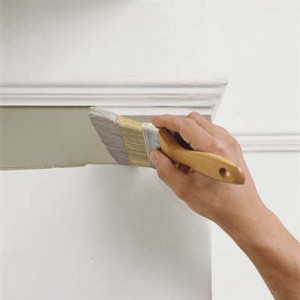 Like wine spilled on a new shirt or a rock chip in you new car's windshield, you are bound to end up with minor wall damage somewhere in your freshly-painted house. Scuffs, dents, scrapes, dings, holes and dents… call them what you will, they steal the glory from a beautiful wall, calling everyone's attention towards that one little problem. This leaves homeowners wondering, "Can I touch up the damaged spot, or do I need to repaint the whole wall?"
Most paints, when the are very fresh, can be touched up fairly seamlessly. The film hasn't cured all the way and the color has not faded, so a small touch-up spot can be hidden fairly effectively. This is why, whether you hire a painting contractor or do it yourself, you should inspect the walls immediately after the final coat of paint goes on, to make sure you are satisfied with the results.
Once your interior paint is dry, it becomes harder and harder to touch up without leaving evidence. The color fades, so your touchup paint will not match perfectly, and if the paint has any gloss or sheen to it, there will be a line or ring that shows in the light. Your best chance for successful touching up is with flat paints, since there is no sheen to blend with.
If the flaw you want to cover is small enough, you are probably better off touching up the spot rather than leaving it as-is, even if it will not match perfectly. The important tip that painting contractors recommend is that you need to use the least amount of paint possible. If you can, use a thin artist's brush – or even a toothpick – to apply paint just to the affected location.
For larger flaws, use a small roller or paint brush to cover the affected area, then go slightly beyond, feathering or tapering out the edges to minimize the visible meeting of new and old paint. Wait until the area is all the way dry before evaluating the results. This may take a day or two.
In a large number of cases, touching up the interior walls will simply not be possible. The faded color of the walls or the gloss of the paint will prevent a seamless touchup, so that the problem area will continue to draw attention to itself. It doesn't hurt to try the touchup first, and see how you like it. But if it doesn't hide to your satisfaction, you will need to repaint.
Fortunately, you don't have to repaint a whole room, and maybe not even a whole wall. Interior painting companies typically paint "from break to break" in cases like this. A break is any feature of a wall that will disguise the seam between new and old paint. This could be a corner, a piece of trim or a similar feature.
There are some paints that are formulated to be "touch-up-able," even in medium-sheen finishes. One good example is ProMar 200, a premium zero-VOC paint from Sherwin-Williams. If you are purchasing paint for a high-traffic area of you home, where you can foresee many likely touchups, you may want to invest in a paint of this caliber. Ask at you paint store for a paint with this quality.
A.G. Williams is happy to serve our customers with interior painting jobs of any size, from minor touchups to complete home repainting. With over 100 years of experience in this region, we are a painting contractor you can trust with your home. We work in Pelham, Ardsley, Irvington, Thornwood, Bedford, Cos Cob, Darien and other neighboring towns.