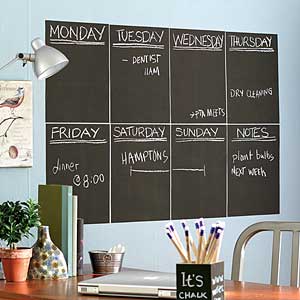 You don't need to go to that hip coffee house or bistro down the street to see the menu in colorful chalk on the wall. Do it in your own kitchen! Keep your family tuned into YOUR menu for the week with chalkboard paint. Grocery lists, weekly appointments, family chores, tic-tac-toe, and a host of other items can be featured as well!
Chalkboard paint is also a great way to allow your kids scribble on the wall without destroying their bedroom or your house. All you need is a standard chalk eraser and the damage is gone. And who knows?!? Maybe they'll sketch a masterpiece.
Leave it up for a while.
Chalkboard paint is a creative and offbeat way to add organization, spontaneity, and flair to your home décor. Be the first in your neighborhood, and take credit for setting off a trend!
Not a fan of chalk? Try magnetic paint instead. Cover your entire wall, turning your entire office room wall into one big corkboard bulletin– but without the tacks (and the holes), or the cork! Just keep a jar of magnets on the desk, and start pinning important papers and notes on the wall instead of piling them on the cluttered floor.
Another great option, rather than covering a whole wall in chalkboard or magnetic paint, is to create a simple frame using trim pieces, and coat only the inside of the frame.
Keep in mind that because magnetic paint is made with tiny iron particles (not actually magnetic), it's compatible with any electronic equipment that might be in the room. Magnetic paint is also available in any color you like since it goes beneath the top layer!
Chalkboard paint and magnetic paint can be a fun way to decorate a bedroom, a bathroom, or a kitchen. Cupboard doors, file cabinets, and furniture are not exempt either from the cool possibilities that these paints offer. Turn that wall next to your vanity into a Rauschenberg-esque collage masterpiece. All you need are magnets and a muse. And take it down, just as quick. Every wall with magnet paint serves as a perpetual blank slate ready to be adorned and re-adorned.
At A.G. Williams, we also offer Magnetic and Chalk paint. Don't hesitate to ask for either (or both) of these exciting products for your interior painting! Our residential painting team at A.G. Williams is eager to assist you in the application of all of these painting ideas, and we guarantee fantastic results. A.G. Williams is a painting company focused on both innovation and quality application. Give us a call, and we'll do it right.