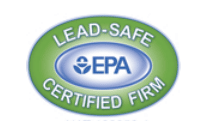 When it comes to hazardous chemicals, the last few hundred years have had some bad experiences with trial and error. Plastics, medicine, foods and fuels have all been found to have devastating compounds in them, causing serious health issues for many people. Lead paints have also undergone a similar process, leading to their complete ban in 1977. Unfortunately, the majority of houses painted in that year or prior are very likely to contain lead paint.
If your home contains lead paint, it is safe to paint over it, as this will not release any lead into the home environment. The problem is that to perform a good paint job, you usually need to do some sanding or scraping. This is definitely a bad idea in a home with lead paint, as this disturbance of the paint film will release lead dust into the home atmosphere. The contamination from this is difficult to contain.
Here is the bottom line: any renovation or home repair that disturbs the prior paint can release lead toxins into the home. That includes window replacement, drywall repair, plaster repair, trim upgrades, molding removal, baseboard removal, and even wallpaper removal in some cases.
This being the case, it is very important that you hire a contractor who is certified for Lead Paint Removal by the EPA (Environmental Protection Agency). Trained specialists are able to remove or contain lead paint in a way that will not contaminate the home or present a health hazard to the occupants. Not only is it advisable – in many states it is mandatory to hire a Lead-Safe Certified Contractor for all home renovations.
The EPA Lead Certification seal indicates that a painting contractor has received extensive training and demonstrated thorough knowledge of the risks of lead paint, as well as the best methods for dealing with it safely.
If your home was built before 1978, don't risk the health and safety of your family. Contact an EPA Certified lead-safe painting contractor to complete your residential painting.
Read these tips if you are thinking about hiring a painting contractor.
A.G. Williams is dedicated to the safety and health of our employees and our customers. For that reason, we have sought and achieved lead-safe certification. Our desire is to provide you with the premium-quality painting and redecorating that you want, without compromising your family's health.
Serving Mamaroneck, Hastings-on-the-Hudson, Bronxville, Cos Cob, Scarsdale, Sleepy Hollow and the neighboring cities of New York and Connecticut, A.G. Williams is your best choice for lead-safe painting.