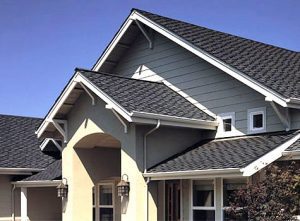 As a top quality general contractor, we not only provide professional painting services but also home maintenance, carpentry, and roofing services. With a well-trained staff and professional equipment we are committed to producing superior results for customers in need roofing repair or replacement. All our services include excellent warranties; if you want it done, we can do it for you! If you are wondering if your roof needs repair, read our helpful tips below:
How do I know if my roof needs repairs?
If you're asking this, your roof probably already needs attention. There are a number of factors that can affect the duration of roofs: type of roof (asphalt shingles, metal, wood shakes, or tiles), exposure to extreme temperatures, and precipitation (rain, snow, ice, and hail). To determine the condition of your roof, begin with a brief interior and exterior check.
Interior Check
Professional roofing contractors recommend a check up on roofs twice a year: once in the fall, and once in the spring. Begin by looking for interior signs of damage or decay. Grab a flashlight and check the attic roof. Look for water damage (rot, stains, streaks etc.), small holes – indicated by light coming in from the exterior, and places where the roof is sagging. If you find any of these signs of damage, your roof will need at least minor repairs, and a roofing contractor should be contacted as soon as possible to ensure that further damage is avoided.
Exterior Check
Another way to tell if your roof is in need of repair is by stepping outside and taking a look at the exterior. Start by looking for obviously damaged or missing segments of roofing (including warped, blistered, or torn shingles). Any missing or damaged roofing will leave an exposed area for water to seep in and damage the wood underneath. Another thing to check for is for an excess of shingle granules in the gutters. While there will always be some granules collected in the gutters, an excess is a sign of advanced wear. Also, look for signs of moisture, rot, or mold. And finally, check each of the gutters and make sure the flow is clear so there will be no accumulation of water.
Roof Maintenance
If your roof is showing any of the above signs, it is probably time for some repair work. Most roofs, if they are under 20 years old, can simply get by with patching and minor repairs. However if your roof is older than 20 years you should consider replacing all the roofing.
If you are looking for a general contractor to do a repair job or an overhaul of your roof, contact us for a Free Estimate! A. G. Williams has been providing quality service for over 100 years. We service Mamaroneck, Edgemont, Dobbs Ferry, Valhalla, Bedford, Riverside, New Canaan and the surrounding areas.
Read these tips if you are thinking about hiring a contractor.