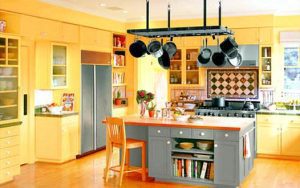 With a tight economy many homeowners aren't able to remodel their kitchen when it begins to look worn and outdated. But who said you needed to give your kitchen a full-blown remodeling? Why not just give it a good makeover? For a fraction of the cost, you can update your kitchen, giving it a completely fresh, new look. Spice up life and make that humdrum dish-washing a whole new experience by trying these few simple tips!
Wall color
Many kitchens tend to have little empty wall space because of appliances and cabinets. For this reason, many painting contractors will recommend brighter colors to offset the monotony of cabinets and appliances.
Flooring
If you have an old floor in your kitchen that has seen one too many days, get it swapped for a new one. There are several inexpensive and trendy flooring options to update your kitchen giving it a whole new look and are easy to install. Some floors (such as the new cork floors) do not even require the removal of your original flooring!
Cabinets
Cabinets usually take up a large portion of the kitchen and thus affect the overall look greatly. Rather than paying for new cabinets, try giving then a fresh coat of paint. Check out our tips on painting your kitchen cabinets!
Another tip for improving your cabinets is to remove the cabinet doors. Chose out a few cabinets that you want to turn into open shelves and show off that new set of dishes! If you get really inspired, you can even try painting the inside of your new shelves a different color than the outside!
Appliances
You can improve both the look and functionality of your kitchen by replacing a few key appliances. A new dishwasher, fridge, stove, or microwave could be just what you need to improve the look of your kitchen. To save on cost, try selling your old appliances on Craig's List or E-bay.
Lighting
Proper lighting can make a huge difference in the overall look and feel of your kitchen. Get rid of that old fluorescent light and try replacing it with recessed lights. If you have cabinets with glass doors or display shelves, consider installing low-level lights to give an extra glow to your kitchen.
Accessories
It's those little things that make the biggest difference! Dispose of those old cream-colored light switches and put in white ones. Are your curtains outdated? Be sure to replace the knobs and handles on your cabinets!
If you are unsure of how to update your kitchen, consider calling a contractor. If you decide to paint your walls or cabinets, some offer color consultation as well as interior painting contracting.