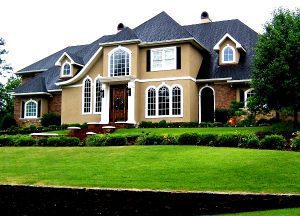 Repainting your home not only keeps it in better condition, but is the cost-effective way to enhance its appearance. The traditional color for many homes has been white, or off-white. However, as many consumers have been growing more comfortable with a variety of color palettes, modern homes are increasingly be painted with earthy tones that complement the environment of the house. Choosing exterior paint colors for your home is an important decision. These tips below can help you find the colors that will fit your home best.
Considering the Setting
When considering a color scheme for your home, the first thing to examine is the environment of the home. Is your home surrounded by other houses? If so, what colors are they painted? Try to choose colors that complement those of neighboring houses as much as possible. Also, take into account the landscaping around your home: flowering trees, shrubbery, and flower gardens. Finally, remember that colors will always appear darker on houses that are shaded by trees.
Matching Existing Materials
Another important consideration in selecting a color for your home is the color of the existing materials on your home. If your home has stone or brick, or slate accents, work with colors contained in the materials or colors that compliment them. Also, note the color of your roof. Your color palette should contain either tones taken directly from the roofing, or tones that work well with it.
Using Accents in Exterior Painting
The final element that can make a huge difference in the aesthetic result of your exterior painting job is a proper attention to accents and details. In addition to the main color you chose for your home, most painting contractors recommend choosing at least one other color to provide contrast. Accent colors can usually be taken from the same color strip, just a few shades darker or lighter. Also, white is a good option as it is a universally accepted accent color.
When deciding which areas of your house to accent, look for interesting architectural designs which you may want to draw attention to. Windows and doors are primary opportunities to add interest and contrast with accent colors. Avoid accenting things like gutters, air-conditioning units, or unevenly set windows. Properly applied accent colors can give your home a distinct and trendy look, as well help to make the entrance to your home stand out and seem more welcoming.
If you are interested in repainting your home and need more help choosing colors, try our color consultation services or call us for a free estimate! A. G. Williams Painting Company, Inc. serves Harrison, Rye, Scarsdale, Briarcliff Manor, Thornwood, Chappaqua, Old Greenwich, Stamford, Darien and the surrounding areas.
Read these tips if you are thinking about hiring a painting contractor.