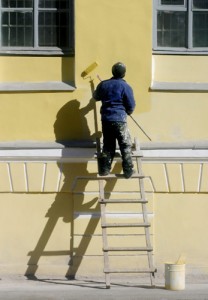 In the New York area where winters are cold and muddy, stucco often accumulates stains and deterioration that detract from its functionality and aesthetic appeal. Painting is an excellent solution to discoloration and wear on stucco walls. Here are a few tips and ideas for painting stucco in the New York area:
Preparing the Stucco
Before you apply paint to the stucco, painting contractors recommend that the surface be cleaned thoroughly. Power-washing is an excellent option for cleaning the stucco.
If stucco is old, take care of all damaged portions. Crack can be filled with caulk and lager areas can be fixed with a thicker sealant.
If the stucco is new, you should allow it to sit for 60 days to make sure it is completely dry and settled before painting.
Painting the Stucco
Once the walls have been properly prepared and all surrounding areas have covered/taped, you are ready to begin painting. Many painting contractors recommend using a roller to apply the paint. However if the area you are painting is large it may save you time to spray on the paint.
If you chose to roll the paint, be sure to use a thick roller which is able to absorb a lot of paint. Because stucco has so many crevices and dips it is easier to paint if you use a roller with a lot of paint, allowing it to reach into all the cracks. A lambs-wool roller works well for this kind of project as it holds a lot of paint while avoiding spattering.
Finally, make sure you finish the job well with a masonry brush, touching up places where the roller couldn't reach.
Read these tips if you are thinking about hiring a painting contractor.
If you are interested in replacing or painting your stucco wall and decide you want help with the project, contact us for a free estimate! A.G. Williams is a well-established painting and home Maintenance Company that serves many areas (including the following) in New York, New Jersey and Connecticut: Harrison, Rye, Scarsdale, Briarcliff Manor, Thornwood, Chappaqua, Old Greenwich, Stamford, Darien.