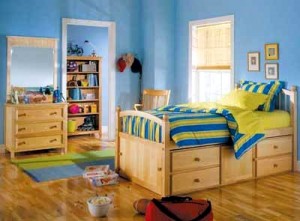 With the high concentrations of energy and imagination they house, kids' bedrooms need both durability and creativity. Whether its pictures taped to the wall, little hand-prints, or wild games of chase, child's walls are bound to get a lot of use. If you are considering painting a child's bedroom, you will need to find paint that can tolerate this traffic. Read these tips below for some good ideas on what type of paint to use in your child's bedroom!
Painting to Last
The best kinds of paints for high-traffic areas are satin or semi-gloss. Satin paint tends to cover imperfections in the wall more than semi-gloss, whereas semi-gloss is easier to wipe clean. Both paints are excellent options for a child's bedroom because they can be cleaned easily and don't hold stains like eggshell paint. Many interior painting contractors recommend using the satin paint on the walls and a semi-gloss for the trim.
Painting Safely
Most paints available on the market today still have VOCs (volatile organic compounds) which can be potentially dangerous and produce an odor. If you have a child who is sensitive to odors, you may consider buying paint that is eco-friendly. This paint is made from all-natural products and is safer as well as better for the environment.
Getting Creative
In addition to choosing safe, durable paint for your child's room, there are several other increasingly popular paint options which can provide a fun way for your child to express his or her creativity. Many painting contractors offer chalkboard and magnet paints. Chalkboard paints allow your children to literally draw on the walls all they want! When you want to clean the wall simply wipe it like a chalkboard. Magnet paints allow your child to keep pictures and projects on the wall without all the tape.
If you decide to paint your child's bedroom and need some help, give a call and or request a free estimate! A.G. Williams is a well-established painting contractor servicing Mamaroneck, Edgemont, Dobbs Ferry, Valhalla, Bedford, Riverside, New Canaan, and the surrounding areas in New York and Connecticut.