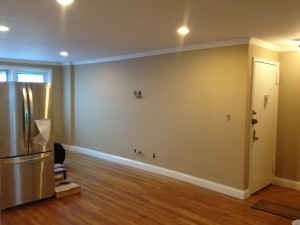 We recently completed a full apartment painting project including some carpentry. We painted the Kitchen, Living Room, Dining Room, Bathroom, Hallway and Bedroom in an apartment in Rye Brook. The job took about 1 week for carpentry and 2 weeks of prep and painting. Here is what we did; take a look at the amazing before and after shots.
Project Process
For this project, we installed baseboard and crown moulding in most of the rooms and new window frames on all windows. We installed new saddles (stained saddles to match floor), closet rods in closets, louvered closet doors and a new paneled bathroom door. We installed the medicine cabinet in the bathroom.
To prepare for painting, we filled & patched all the holes from construction and skimcoated all ceilings to a smooth surface. We taped some major cracks using a fiber mesh tape system (standard). We stripped a few window jams where previous painter applied latex over oil without priming. And we removed old wood panels in the dining room, sanded down glue, cleaned off walls and skimcoated smooth.
After prep, in addition to spot priming, we painted everything with a full 3 coats: full prime and 2 coats of finish paint.
Colors & Products Used
Walls
Trim
Customer Response
The customer was thrilled with the level of quality finish and the approach to the repairs. He appreciated the service regarding the carpentry from the research and idea phase through the completion. We enjoyed working on his apartment and we were glad he appreciated our work.
Before: After:
[cherry_clear][cherry_spacer size_xs="15″]
[cherry_clear][cherry_spacer size_xs="15″]
[cherry_clear][cherry_spacer size_xs="15″]
---