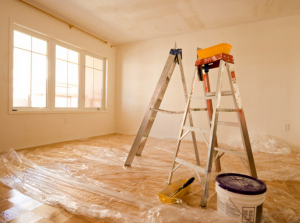 Have you ever watched an episode of Mr. Bean? How about the episode where he paints a room on New Year's Eve? He carefully tapes everything he doesn't want to get painted, and then sticks fireworks in a can of paint and quickly leaves the room. The results? Well, you can imagine! Fortunately, there are better ways to paint a room than that! Let us share a few interior painting tips and tricks with you.
What Color Should I Paint My Room?
Before you get out your brushes and tarps, you need to plan your interior paint colors. Neutrals are always a safe and popular option. Some of the best neutral paint colors are grays, tans, and even some neutral shades of blue and green. These are most likely to match with a wide variety of colors.
The problem is that working with neutrals can be a little"¦ neutral! It's so noncommittal and inoffensive that it can feel like it lacks life! So what do you do? Add a splash of bright color. Go bold with an accent wall, or a few throw pillows, a picture on the wall – you need something when your walls are neutral.
If you need inspiration for your interior paint colors, try browsing Houzz or Pinterest for a while. There you will find thousands of great color ideas. Surely one of them will catch your interest!
How to Paint a Room: Where Do I Start?
Interior painting contractors always begin by protecting the area, so that floors, furniture and fixtures aren't damaged. Use tape and tarps to protect anything you don't want paint on. Now wash your walls with a soft sponge and a tiny bit of detergent in water. Dirty walls won't take paint well.
Next, prepare your surface. You'll need to fill in nail holes and scrapes, sanding them smooth afterwards. If you are making a drastic color change, or if you have used much spackle in your patching, you'll want to put a coat of primer on the walls next. You can only begin your interior painting once you've finished all this preparation.
Painting Tips & Tricks from an Interior House Painter
Use a high-quality brush, and clean it well between uses. Expensive brushes will actually save you money, because they last longer and produce better results.
Begin by brushing along the edges and corners. This is called "cutting in." Don't do the whole room – just a manageable section.
Now get a roller and fill in the large, open sections, overlapping the edges where you cut in.
Start at one end and work towards the other, always trying to keep a "wet edge." This means, if you started from the left hand corner, don't let the right-hand edge of your painting area dry out while you do something else. Only let an area dry when you're sure it's covered well.
Start at the top of a wall and work your way down – not the opposite. This avoids drips and runs.
Wait the length of time indicated on the paint can before doing another coat.
Don't wait too long to remove the tape. The paint should be dry (5 hours, more or less), but not fully cured (2+ days), or you will likely end up with problems.
Clearly label your extra paint, so you can use it for touchups in the future.
Read these tips if you are thinking about hiring a painting contractor.
Interior Painters in the Westchester & Larchmont Area
It's true that doing your own interior painting can save you money, if you've got plenty of time on your hands. But nothing beats the visible craftsmanship of an interior painting contractor like A.G. Williams Painting. If you would like to enjoy the beauty of a finely-crafted room, trust a house painting expert! A.G. Williams Painting serves the Westchester & Larchmont areas in New York, as well as many communities in Connecticut.