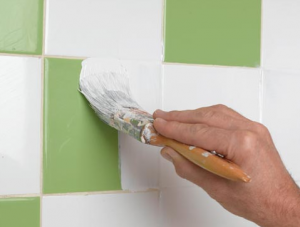 Many homeowners wonder if they can paint ceramic tile in order to save time and money over replacing it. It is possible to paint ceramic tile. However, if the surface is not correctly prepared and the proper painting products used, the results can often be poor.

How to Paint Ceramic Tiles
The basic process involved in painting ceramic tiles is to first repair (if necessary) and clean the surface. Next, the glossy coating on the tiles will be sanded to prepare them for application of a high adhesion primer. Then several coats of oil based paint are applied on the primer. The surface is finished with a clear urethane coating.
When Not to Paint Ceramic Tiles
Tiles that are frequently exposed to moisture, such as sink-area counter tops or above a bathtub, should not be painted. The frequent water exposure may damage the paint. Painting ceramic tiles is also not recommended on the floors of high traffic areas. However, on kitchen backsplashes, walls, and other surfaces, painting old tiles can be a cost-effective way to update part of your home.
Professional Painting Contractor
Read these tips if you are thinking about hiring a painting contractor.
If you are interested in doing a renovation project in your home, and want to ensure that it is done with excellence, call A.G. Williams. We are dedicated to doing lasting, high-quality work, to give you the results that you want in your home. A. G. Williams is a full service painting contractor serving Westchester, Fairfield, Rockland, and PutnamCounties. We would be glad to give you an estimate and to work with you to make your home more beautiful. If you are interested in remodeling your bathroom, we can even serve as your general contractor!