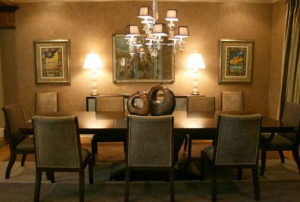 With the holidays approaching and a myriad of opportunities for hosting family gatherings and other celebrations, it often causes us to look again at the spaces in our homes to see if we are ready. Of course, one of the central features of any gathering like this is the food, making the dining room a key location. So, you may ask, what color should I paint my dining room?

Everyone is different, and each house has all kinds of factors that influence the color decisions. Nevertheless, there are certain principles that are applicable to everyone.
Tips for choosing a dining room color
In recent years, a rich, dark red has become one of the most popular and stylish colors for dining rooms.
Other colors that promote good eating are those that are subconsciously associated with foods: lighter browns, tasteful greens and red-toned neutrals.
Blue is said to decrease appetite and is therefore not typically seen as a good dining room color, unless the whole family is on a diet!
Select wall colors that complement your other décor. Most importantly, this would include area rugs, dining furniture, decorations or curtains that you don't plan to change.
If you have a lot of rich color in the items just mentioned, you may want to stay with white or a subtle neutral color for your walls.
For an extra touch of class, consider painting your ceiling a lighter shade of your wall color. This only works if you have a flat, smooth ceiling, and it also looks best if you have crown molding.
If your dining room is open to, or visible from, other parts of the home, make sure your color choice blends well with those other parts of the home.
When you are painting a formal dining room, you want to make sure you work with a painting contractor who really knows how to do an excellent job. The last thing you need is wavy lines, accidental drips or thin spots in the color.
Read these tips if you are thinking about hiring a painting contractor.
A.G. Williams is a reliable painting contractor with more than 100 years of experience in residential painting. We serve New York and Connecticut residents, offering superior quality painting at an affordable price. We also offer color consultation services and other redecorating and remodeling services. Call us for a free estimate!