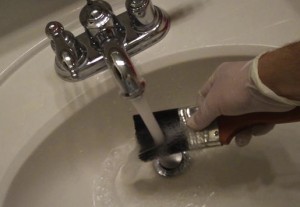 For a lot of folks, a paintbrush is one of the last things considered during an interior or exterior painting project. With all the decisions that swirl in and around the process of painting, unfortunately the brush often becomes no more than a last minute purchase at wherever might be most convenient. And, even more unfortunately, after the work is done it might just get a cursory rinse and then is simply wrapped up and left on a dark shelf in the basement for next time. The truth is, however, a quality and well-maintained paintbrush is a key element for a successful painting project. Whether you're a novice or run a professional painting service, you'll be glad you took the time to maintain your brush properly!
Why Should I Clean a Paintbrush?
Good question! Paintbrush care may seem like nothing more than a messy and annoying step after you've already poured a lot of energy into your work. In reality, though, cleaning your paintbrush is a worthwhile investment into your next project. A brush that is left looking like it has a case of bed-head will leave an uneven application of paint, and potentially leave stray strands behind.
An unwashed brush also can develop chunky spots inside the bristles that create annoying (to say the least!) streaks and marks. These kinds of roadblocks begin to take the fun out of an interior painting project very, very quickly.
So, How Do I Clean a Paintbrush?
After that last beautiful coat has found a home on your walls, here are some pointers for keeping your brush looking and working as it should for the next time you need it:
– First, squeeze and wipe any extra paint on the bristles back into your paint container. It saves paint, and it also cuts down on the time it takes to clean up.
– Using a garden hose (or a sink that can be made messy), start cleaning your paintbrush by running the bristles under the water. Note: rinse from the bottom of the bristles (by the handle) to the top.
– While rinsing, squeeze the bristles and comb through them with your fingers. You can also use a wire brush for this. It will eliminate those hidden chunks we talked about earlier!
– Once the paint is gone, use some liquid dish detergent and massage it through the bristles.
– After this is done, hang your brush upside down and let it thoroughly dry. Then, ideally you would use a storage sleeve to keep the bristles in their proper form.
The method above is suggested assuming you are using a latex-based paint. If you're washing a brush that was used with oil-based, you will need something a bit stronger, like mineral spirits, turpentine, or paint thinner to clean the brush.
Or, Contact a Professional Painting Service!
Read these tips if you are thinking about hiring a painting contractor.
If you have an interior or exterior painting project in mind for your home or business, we hope you will consider contacting us at A.G. Williams Painting Company, Inc. We have a rich history of over 100 years of quality service and experience in New York and Connecticut to offer, serving such communities as Mamaroneck, Scarsdale, Cos Cob, Bedford, and others. We would love the opportunity to put our services to work for you!