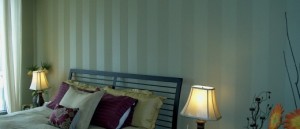 Are you someone who likes to keep an eye out for popular trends when it comes to interior painting? Maybe there's a certain room in your home that you've been thinking about changing or updating, but you've been waiting for the right idea to come rolling along. Well, one technique for painting a room that often appeals to those looking for a classy, sophisticated feel is that of creating shadow stripes.

What is a Shadow Stripe Exactly?
Great question! In short, they are a vertical pattern of alternating 4-12 inch wide stripes of satin and glossy paint. The paint color itself is the same throughout the room, but allowing the paint to alternate between satin and gloss creates a beautiful, textured look. Depending on where you stand in the room and thus changing your perspective of how the light hits the wall, the pattern can seem to change right in front of you.
You also can have an alternating paint color to create another layer of depth. Whether you chose to use one color or two, it really is a very stunning and interesting technique that gives your walls a life of their own while still being reserved and not at all flashy.
Where Do You Use Shadow Stripes?
The ultimate answer is that you can put shadow stripes wherever you would like. Typically, however, since they are considered to be quite formal and classy, they are often considered an ideal paint technique for dining rooms, powder rooms, or sitting rooms. They also work beautifully in bathrooms or a master bedroom.
Would You Like the Help of a Professional Painter?
If you would like the help of a professional painting service for your project, we hope you might consider contacting us at A.G. Williams Painting Company. We offer a variety of interior and exterior services, and have the expertise that comes from having over 100 years of service and craftsmanship experience in New York and Connecticut. Give us a call today!
Read these tips if you are thinking about hiring a painting contractor.