As we work through ideas relating to interior design and updates for renters, we first talked about the kitchen. After all, that's one of the big-ticket items when it comes to personalization, decoration, and overall style opportunity in your home.
Next in line (drum roll) is the bathroom.
Bathrooms, right along with kitchens, are one of the biggest selling points of a property. In fact, in recent years they have only been growing in importance, transforming from a utilitarian room meant for brushing teeth and washing up into a crucial space for relaxation, solitude, and literally rinsing the stress of the day down the drain.
Unfortunately, however, when they are outdated, tired, and stained, they become a major eyesore. So, when you're renting, what can you do to update and breathe some life into your bathroom?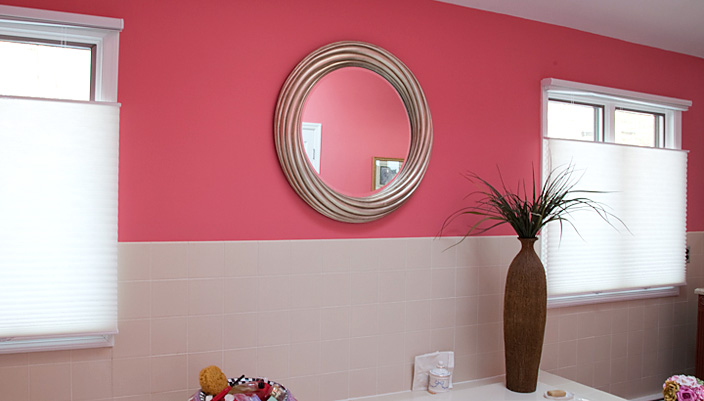 6 Ideas for Boosting Your Bathroom's Style
Mirror framing – Whether you like rustic or sleek, installing a new framework around your bathroom mirror is a non-invasive way to create a custom look. Painted or stained, it looks great!
Stencil on the shade – Unless you're in a very rural area, most people leave the shade drawn in their bathroom. Why not invest in a stencil and add a unique color and pattern, turning blank, white space into a canvas for creativity?
Removable wallpaper – With the elegance of the real thing but the benefit of being low-cost and non-permanent, this is an awesome option for an accent wall.
Floor mat – If you want to cover your floor, how about a stylish floor mat? They're no longer only available in drab, monotone colors, but can be a real bright spot.
Exposed storage and stylish towels – Why not find a cool little bench or miniature set of shelves and use it to display your towels? Even budget-friendly towels are available in a variety of colors and patterns that can accentuate your specific style.
Interior painting – If your landlord approves it, interior painting can, of course, transform a space like little else.
If you have questions about color options or painting for your apartment, please don't hesitate to reach out to us at A.G. Williams Painting Company. Let us know how we can help!