Before you think we're very out of touch with the current weather, or maybe that we just don't have any windows, stick with us as we discuss a common question: just when should you start planning your exterior painting project?
The truth is, this is a wonderful time of year to get a jump on the process. After all, it may feel like spring is in a land far, far away, but in reality it is going to paint the world green and the sky bright blue in no time at all. It's best to plan your project now and, if you are hiring a professional painter, make sure you are on the schedule ahead of the time when people begin to scramble (which is just a few weeks away).
This might just lead you to another important question about your home's paint. Take a look!
How Can You Choose the Best Exterior Paint Colors?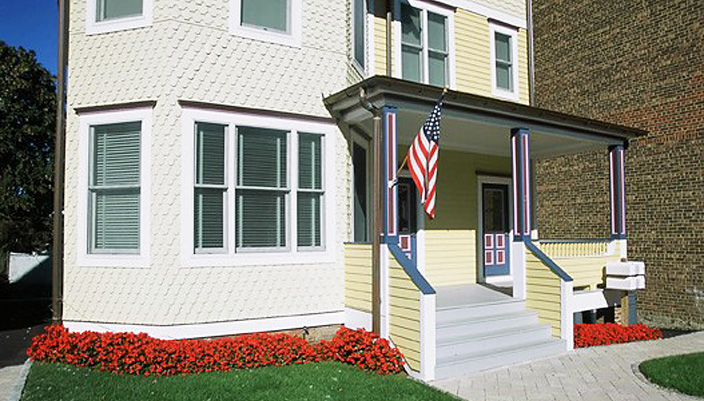 Well, as inspiring as it can be to look through a magazine or scroll through a website (there are some stunning houses out there!), it's helpful to turn an eye to your actual home and think through some practical factors:
Consider your "fixed colors" – What exactly is a fixed color? It is an element in your home's design and architecture that can't be easily changed. Lawn furniture, if it clashes with your new paint, can be swapped, but brick and stone that is incorporated into your styling tends to stay where it is. So, choose an exterior color that works with these factors, such as an earthy, deep tone that compliments the rusty red and neutral mortar of brick.
Architecture – Is your home built in a very specific style? Say, a colonial or a Victorian? Maybe a New Englander? If so, it can be fun to research and choose colors that correspond with that specific design.
Regional homes – Try taking into consideration the region where you live. Different parts of our country are known for different styles (think of the cold, crisp lines of white homes with black shutters in New England, for example). Letting those regional characteristics shape your exterior color choices can work to create an authentic look.
Classic styling – It can be hard to go wrong with a lighter body color for your home with a complimenting, darker trim. Think outside the box a bit (a paint color professional can help!) and try something new with this tried and true look.
Accent door – Want a smaller-scale way to add a more adventurous pop of color? Try painting your front door a bright, bold color.
Do You Need a Professional Painting Company?
If we at A.G. Williams Painting Company can be of service, please don't hesitate to contact us! It would be a pleasure to help with your interior or exterior painting project, and to answer any questions you might have.