Are you looking for a cost-effective, minimally intrusive way to update your kitchen's style?
Well, you certainly aren't alone. Homeowners now more than perhaps ever before are putting a heavy emphasis on the look and feel of their kitchen. This has led to the development of stunning materials and design options, as well as a refreshed love of warm, inviting interior paint colors.
Circling back to the question above, many people are finding the answer to their kitchen paint and design needs by having their cabinets painted. This option offers incredible opportunity for customized style, unique finishes, and results that range from glossy and cold to a warmth and ambience that truly feels like home.
Paint holds nearly limitless power.
A Recent Cabinet Painting Project
To get an even better, real-life sense of what cabinet painting offers, we thought we would share a few photos from a project we finished recently.
Here is a look at what the kitchen looked like before we began:
What Does Cabinet Painting Involve?
Here are the behind-the-scenes highlights:
We removed all the hardware – In addition, for an exceptionally smooth finish, we filled the holes left behind
The cabinet doors were removed and sprayed elsewhere by our craftsman
The doors were reinstalled with new hardware by our carpenter, Rafy
Primer – We used Benjamin Moore's Enamel Underbody alkyd base primer
Topcoat – Two coats of Benjamin Moore's Satin Impervo Acrylic finish paint
Color – This unique, beautiful color is Chantilly Lace – OC-65
The Finished Product?
Before we show you how it turned out, we'd like to give special thanks to our craftsman, Antonio, for his fantastic work.
Here is what the kitchen currently looks like, with the older stained finish gone and the stylish new paint in place. What do you think?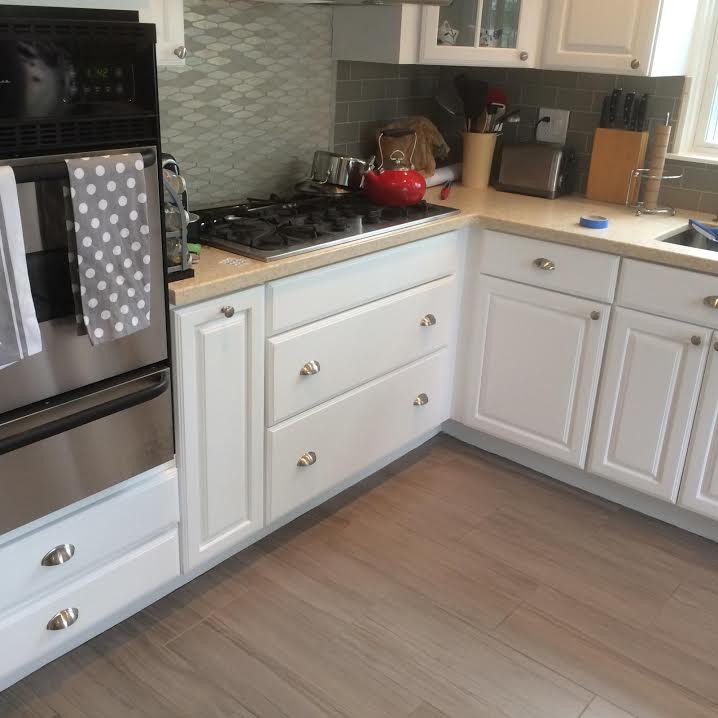 Here's an interesting question: in the "before" photos, did you even notice the lovely backsplash that this kitchen has? It becomes much more pronounced thanks to the lighter, brighter cabinets.
Are You Interested in Professional Cabinet Painting Services?

If so, we hope that you will contact us at AG Williams Painting Company. It would be our pleasure to discuss your specific design goals and needs!