Warm weather is here (we love those four words!). This means that not only is it time to plan a sunny getaway or two, but it also is time to make sure that your favorite outdoor space is as ready for the summer as you are.
If your deck could use a little TLC, you might find yourself asking the all-important question: what kind of stain should I use?
Before we get too deep into the topic of stain varieties, let's step back and ask one other question: why stain your deck at all?
What Does Stain Do for Your Deck?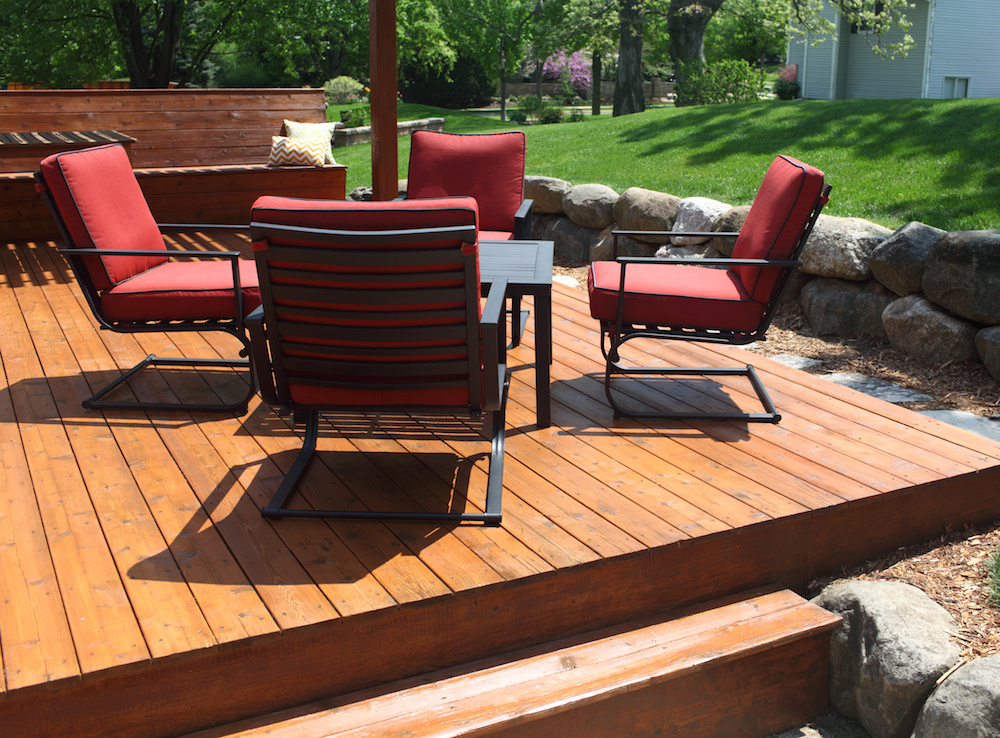 Essentially, your deck's coating has four important jobs:
Repel moisture – Keeping moisture out will protect the structure from rot and decay
Offer UV protection – Much like sunscreen, the proper stain will reduce fading and damage from the sun
Resist mold and mildew
Look great!
With that said, let's take a look at the main choices you have.
What Kinds of Stain Do You Have to Choose From?
Transparent– Think of this as being the equivalent for your deck of applying a very light sunscreen. Moisture will be repelled, reducing the issue of rotting, but UV rays will still pose a threat.
Semi-transparent Stain– This stain will add a bit of color to your wood, making for a pleasant look, and it also will block most UV rays. As an added benefit, it provides some water protection as well.
Semi-solid stain– The benefit of a semi-solid stain is that with the greater level of colorant there is an increased level of protection for the wood all around.
Solid-color stain– Solid stains sit on top of the wood, much like paint, rather than soaking in deeply. This forms a very protective film, but covers over the surface's natural character.
The common theme, as you may have gathered, is that as you increase the level of pigmentation in the stain, the level of protection rises as well. Unfortunately, however, this also means that your wood becomes more and more obscured.
Do You Have Home Painting, Staining, and Maintenance Questions?
The team here at A.G. Williams would love to help! We provide a variety of painting, staining, and carpentry services, all offered with the goal of preserving the spaces you love most.