What are your colors bringing to the table?
Interior painting can easily feel like an afterthought, maybe involving little more than picking a swatch out of a hat. Or, to make things "easy," many business owners just choose an off-white so that everything goes and there are no issues with clashing.
That's a little like choosing a new car by walking into a dealership, closing your eyes, spinning three times, and pointing. It may be fast, but it doesn't mean you found the right vehicle to meet your specific needs.
Choosing the interior paint for your business shouldn't be difficult, but it should be a thoughtful process.
Why Is Your Choice of Paint Color Important?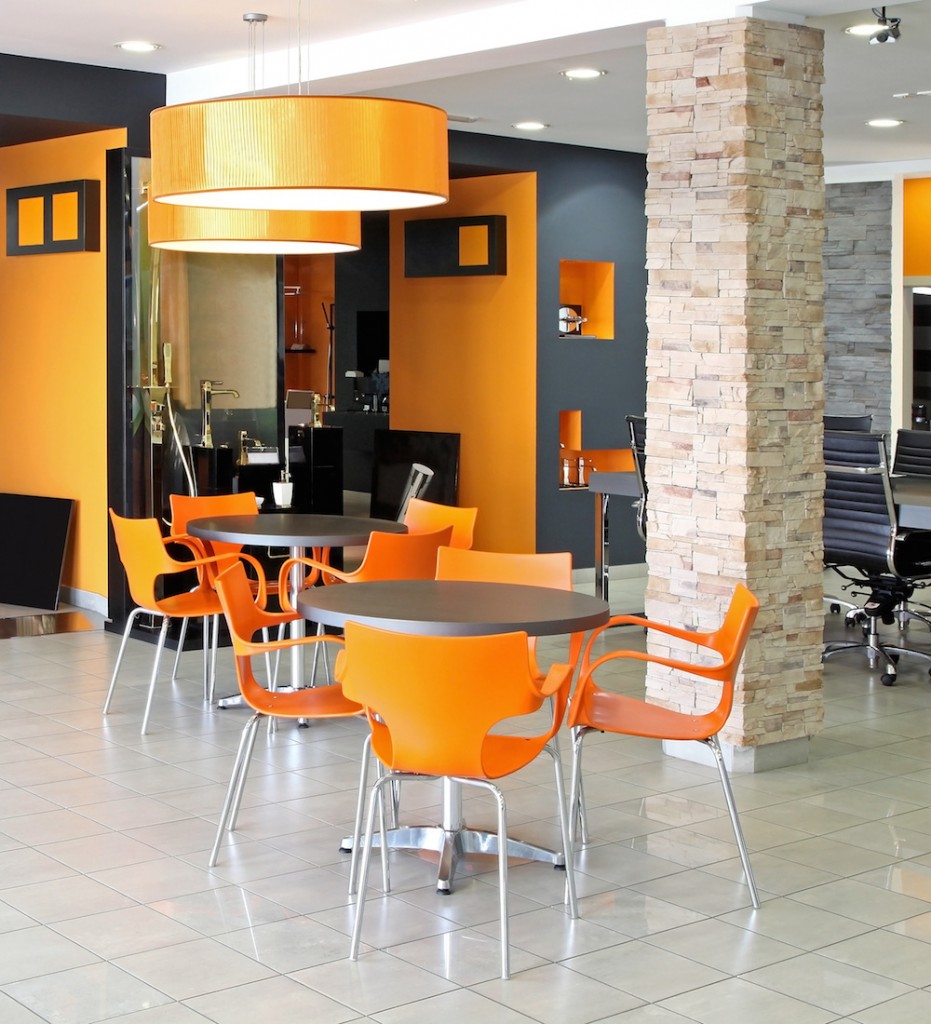 Whether you sell model trains or work in a fast-paced office, your walls are the backdrop of your business. And, your paint color has a few specific jobs to do:
Your paint needs to represent your culture – Colors like orange and yellow are more casual, while contrasts of black and white can create an ultra-modern, chic look. Consider your clientele and goals, then select a color that will fit best with your target atmosphere.
Your paint needs to impact moods and creativity in a productive way – We have talked about color psychology before in previous articles. Certain colors can spark creativity, while others create tension if used in an overbearing way. Some are relaxing (like blues and greys), while others can increase heart rates.
Here's a quick, bird's-eye view of different types of business environments and the colors that might work well for them:
Relaxed and cheerful – Limited amounts of oranges and yellow (these are casual colors)
Luxury – Stark contrasts, especially involving black and white
Fast-paced – Why not pair a soothing blue with a busy environment? Earthy, natural tones are also fantastic for this purpose
Detail-oriented – Red is an energetic, attentive color. Too much can be stressful, though! How about an accent wall?
3. Your paint needs to be up to the challenge – This steps over into the world of sheen. A higher-gloss paint, while less forgiving of surface imperfections, is much tougher than its lower-sheen counterparts. A sturdy eggshell or semi-gloss will stand up well to the bumps and bruises that walls experience in high-traffic areas.
Bonus Tip: Avoid too much grey. In limited amounts it can be very stylish and attractive, but it also can feel a little dreary if there is no other color present to provide contrast and brightness.
Do You Need a Commercial Painting Company?
The A.G. Williams team would be happy to answer any painting questions you might have. You can learn more about us here, or feel free to give us a call!