Doesn't summer seem to go by a little faster every year?
When you're a kid those precious months of vacation can feel like a miniature eternity, but as adults it becomes a wild flurry of trying to find time for every activity that requires warmer weather and the sun overhead. Because of that, it's easy to let your home maintenance to-do list take the back burner. And, in all honesty, that's not entirely a bad thing! It's important to carve out time to unwind, relax, and let responsibilities slide"¦ at least a little.
Now as we transition from late summer to early fall, a lot of homeowners (maybe yourself included!) are wondering if they missed the boat when it comes to their exterior painting project. That's a great question!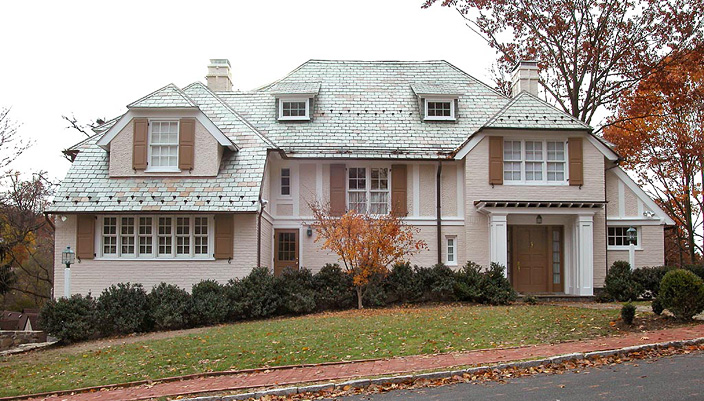 When Exactly Does the Exterior Painting Season End?
Just like nearly everything else, from shampoo to cell phones, paint formulas have enjoyed steady advances. Quality is higher than ever before, and there are products that are also capable of much more than ever before.
As one example, Sherwin-Williams offers their Duration line which can be applied in temperatures as low as 35 degrees with perfect adhesion. It used to be that the weather needed to be a consistent 50 degrees or warmer. As another example, if you like Benjamin Moore products, you might take a look at MoorGard. The common denominator is that the season for exterior painting is being stretched comfortably at each end of summer.
We've offered a longer answer to the question first, but here's the short version: if you use the right products, keep an eye on the weather, and are mindful of your conditions, exterior painting is possible right into November.
What Is the Best Weather for Painting Outside?
As we mentioned above, being aware of the right environmental conditions is crucial. If you don't, you run the risk of poor adhesion, meaning the lifespan of your paint plummets. Nobody wants that.
So, what conditions should you look for?
A thoroughly dry surface – This doesn't just refer to rain, but also dew. As tempting as it may be to paint just as long as sunlight will allow, you should let your paint cure at least a couple of hours before the temperatures begin to drop in the evening.
A fairly consistent temperature – Those specialized, cold-weather paint formulas may be forgiving, but it's still important to make sure that the overnight temperature is within the safe zone. Chat with your local paint supplier about your paint's specifications and their recommendations.
Circling back to the topic of dry surfaces, if your neck of the woods has experienced a sustained period of rain, you really should allow 1-2 full days of rain-free drying time.
Do You Have Any Other Exterior Painting Questions?
The A.G. Williams team is here and ready to help! We can take the guesswork out of your project with expert application, quality product selection, and priceless experience.