Who doesn't love a home improvement show? Footage of drastic transformations is engaging, especially if an updated decor is on your short-term dream list.
Unfortunately, however, these shows often depict changes that, while definitely stunning, come with huge price tags. And, beyond price alone, they require a certain level of commitment and willingness to turn your life upside down for a while. After all, you can't exactly pour your breakfast cereal on a "normal morning" while your kitchen cabinets are being torn down around you.
So, is it possible to update your home's style without breaking your budget or your walls?
Absolutely. Let's start with a few ideas for the living room.
Adding Modern "Wow Factor" to Your Living Room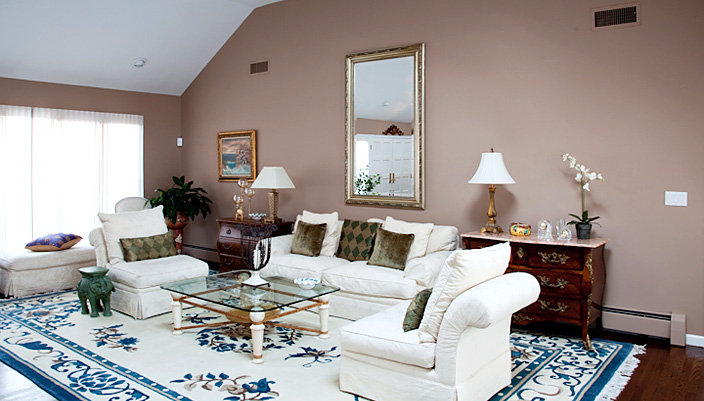 Area rugs – Available in a limitless number of both patterns and colors, this is an inexpensive way to add modern style. To get you started, here's an article from House Beautiful that offers tips for choosing your next area rug.
Accent pillows – Why not add a splash of bolder color in your space? You might be amazed by what a difference accent pillows on your couch or chair can make.
Frames – With a photo or without, picture frames can be custom-painted and used as an awesome design element. The best part is that you can make it a DIY project and paint your own. Here's a simple frame-painting tutorial from Sherwin-Williams to point you in the right direction.
New carpet or wood refinishing – Replacing carpet makes a tremendous difference. Or, if you have an older, tired wood floor (or wood hiding under your carpet!), investing in sanding and refinishing is well worth it.
Interior paint – You might think we're biased, but it's true: interior painting is a cost-effective way to transform your living space. For photos from our projects, just take a look here on our Houzz page.
Can We Help with Your Interior Painting Goals?
It would be a pleasure to put our expertise to work for you. Why not contact us at A.G. Williams Painting Company today?