If you are thinking about painting the exterior of your New York home and happen to be reading this post in the fall, you have come to the right place. Let me give you a few tips about when or when NOT to paint the outside of your home.
The Outside Painting Season in New York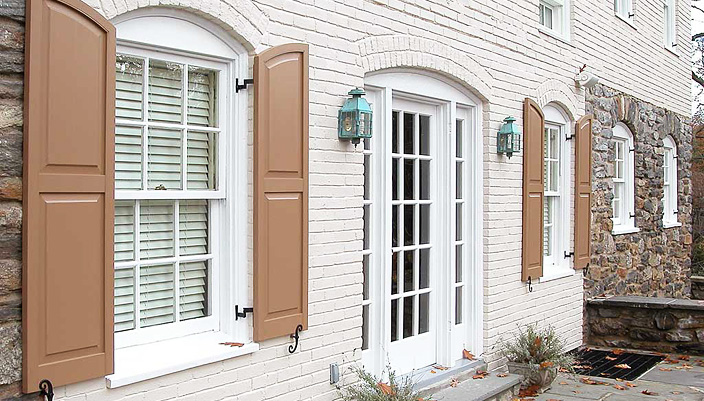 Since we are located in Westchester County, NY, we at A.G. Williams Painting will typically begin painting the exterior of homes, weather permitting, in mid to late March. This will continue all the way into mid-November in most scenarios.
Once the weather begins to remain cold during the day, with daytime temperatures in the 40s and 50s, we will wrap up the outdoor painting season. The night-time temperatures are actually the real concern. "‹If the nights begin to dip below 35 degrees, most painting products will not hold up well.
The decision of whether or not to paint outside is always ultimately determined by the weather.
Currently, in late October, we are still using the same paints we use during the warmer months of the year. Most waterborne (acrylic) exterior paints on the market today hold up very well in colder temperatures (45 degrees and above). There are, however, a few specialized products that allow you to paint in temperatures reaching down to 35 degrees.
What Happens When You Paint in Colder Temperatures?
It is really quite simple! First, check your paint can. It will indicate the ideal temperature range for strong paint adhesion. If, for example, the can says you can apply between 45-95 degrees, the paint should dry and adhere just fine to a properly prepared surface. If, on the other hand, you apply paint during a cooler day in the afternoon and the temp falls to below 45, you could be in trouble. Sometimes it can take several hours for paint to begin the drying process when it is cloudy and cold outside! If the night-time temperatures get to below 45, your paint may not dry. In some cases it can even slide right off the surface! It is always a best practice to paint when you know the day and night-time temperatures are consistent.
If you have a fall exterior painting project scheduled with us, please don't worry. We always closely monitor the weather (including day and night-time temperatures), and are careful to only paint when we know the end result will meet both your standards and ours.
If you are thinking about painting your home and you live in the greater NYC and Westchester area, we would love to be of assistance. Why not contact us today?