If you're painting the bathroom in your home, these two goals might sound familiar:
Find a color you love
Find a color that works well with the existing surfaces
Especially if you have a unique floor color or strong, dominant countertop (maybe granite or marble), they can really take the driver's seat when it comes to color selection. After all, changing your paint color is certainly easier, and less expensive, than replacing flooring and counters.
Don't feel limited. Turn the situation around and use those surfaces to your advantage simply by taking a closer look.
Creating a Monochromatic Color Scheme in Your Bathroom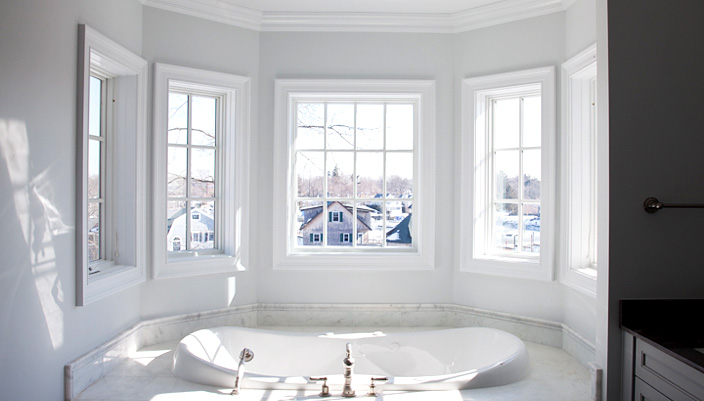 A monochromatic color scheme, in short, includes identifying a color that you love, then adjusting it just slightly by changing its tone, shade, or tint. In other words, there is a slight variation, avoiding monotony, but the change is not at all drastic. It simply flows.
You can do this in your bathroom by finding colors within your existing surfaces that would work well on your walls. This might even be a subtle color, like a slight bit of blue or earthy brown that is swirling through the granite in your counter. Draw it out, use it, and it will work together to create a cohesive style.
Taking it a step further, painting your bathroom cabinetry to coordinate with your monochromatic color scheme can work wonders. New paint and hardware can render your vanity practically unrecognizable.
Bonus Bathroom Tip: Pick a Flattering Paint Color
It can also be helpful to look for colors that complement your skin tone and accentuate a healthy look. For more information and interesting details, take a look at this article from Houzz.com: Decorate With Intention: Picking Colors That Flatter.
Talk to a Professional Painting Company
Sometimes the very best way to get inspired and explore new options is to talk with a qualified color professional. A reputable, local painting company will often offer these types of services with the goal of helping you find the ideal color for your space.
If you have any questions for us at A.G. Williams Painting Company, please don't hesitate to contact us! It would be our pleasure to help.