There's no denying that brick is a popular, enduring building material here in Connecticut and New York. It offers a level of sophistication and natural warmth that flies higher than fickle trends.
Over time, however, age and the elements get the best of us, and brick is no exception. If your home's mortar is eroding or the color just doesn't do the trick anymore for you, what are your options? If you're like many local homeowners, you might find yourself asking that all-important question: can I paint my brick home or chimney?
Can Brick Homes Be Painted?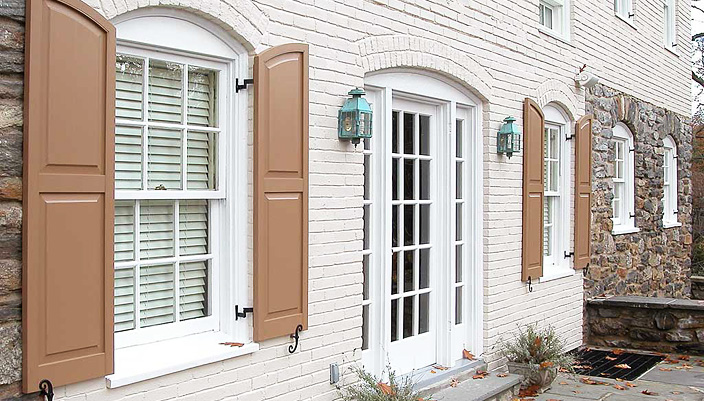 The short answer is: yes! They definitely can.
The long answer involves a warning: painting brick is a trickier, more in-depth process than painting traditional wood siding. It's also extremely permanent. Reaching the halfway-mark and then changing your mind poses real difficulties. For a few more considerations and tips for painting interior and exterior brick, be sure to read this article from Houzz.
It's also important to realize that even if you love the color and are thrilled that you followed through with your brick painting project, it will need to be maintained. This means touch-ups, repainting, etc. In short, remember that you're committing to all that goes with painting and maintaining, not just the initial process.
How to Paint Brick
Step #1
Like any exterior painting project, the first step always needs to be surface preparation. While sanding or scraping doesn't necessarily apply here, cleaning certainly does. Just remember, if you use a pressure washer extreme caution is a necessity. Too much pressure can etch the brick and damage the surface!
Step #2
Carefully look over your freshly-cleaned (and thoroughly dried!) brick surface. If there are large pores, gaps, or cracks, you will need to start the process by applying block filler. If your bricks look good and aren't too porous, you can skip right to the priming stage.
We recommend using a latex masonry primer; this will fill any tiny gaps and help to seal the surface. It also provides an ideal material for your topcoat to grab onto. As a bonus tip, you may want to have your primer tinted with your topcoat color for an easier color transition.
Step #3
Let's get painting! A high-quality exterior latex/acrylic product should be your go-to option. If you're wondering why high-quality paint is important, you can learn more about how quality impacts your project here.
We can hear your next question, though, and it's a good one: how should you apply the paint?
Brushing and rolling are possible and acceptable, but because of brick's rough, uneven nature, it's tough to apply paint smoothly. A sprayer is ideal, easily filling the nooks and crannies that are tricky to fill with other application tools.
Maintaining Painted Brick
Just like any surface, maintenance is easier than starting the process from scratch. We encourage you to keep a close eye on the surface, eliminating trouble spots before they have a chance to grow into full-blown paint failure issues.
On a final note, be sure to take the time to find a color that really works well for you and your home. Houzz.com can be a fantastic starting point, or else you can pick and peruse a number of other creative and educational resources.