By now you are probably familiar with the power paint has to transform your living space, whether you're putting a fresh coat of the perfect color on your walls or using it to give your cabinets a facelift. But interior paint is capable of so much more than a basic finish.
Decorative finishes are a classic and elegant choice for your home that can be adapted to suit your personal style. Ranging from understated glazes that give wall color greater depth to elaborate murals and trompe l'oeil paintings, decorative finishes can be as simple or complex as you desire. At A.G. Williams Painting Company, our painters are experienced in a wide range of faux painting techniques, including:
Trompe L'oeil

Faux Bois

Faux Marble

Strie

Glazing

Stenciling
Fooling the Eye with Trompe L'oeil
This type of faux finish is one of the most involved painting styles to pull off as it requires making a flat surface look like a 3-dimensional space. Most often, this effect is used to simulate a window looking outward, but trompe l'oeil paintings can also appear to come forward out of the wall.
Creating the Impression of Wood with Faux Bois
Faux bois is a classic faux finish that has been enjoying a rise in popularity in recent years. When painted in an unexpected color like the beautiful combination of teal and white in the home above, this finish feels fresh and modern.
The Look of Stone without the Expense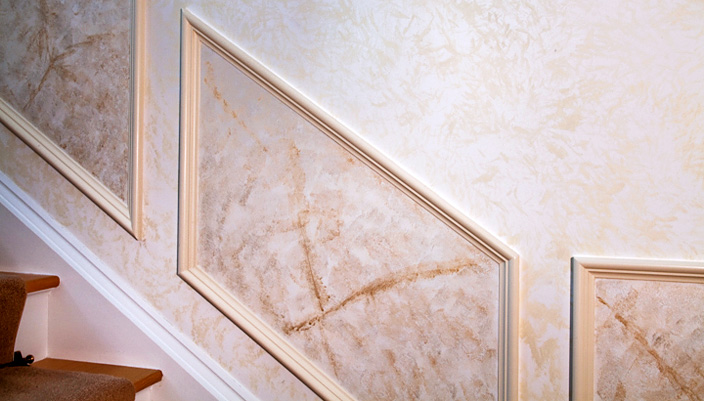 Faux marble finishes are a great way to get the look of stone without the cost or hassle of installation. This decorative finish is often seen in bathrooms or entryways, but it is also a great option for a creative way to personalize a piece of furniture.
Subtle Stripes with Strie
The delicate lines of strie are achieved by applying a glaze over a solid wall color and gently running a brush down the wet glaze to remove portions. While the simplest style of this finish involves only vertical or horizontal stripes, a beautiful basketweave or linen-look results when the brush is dragged across the glaze in both directions.
Getting Color Depth with Glaze
Glaze is a milky-white, liquid medium that dries clear and can be mixed with paint to create thin layers of color. It is used in many decorative finishes, but glazes can also be applied to solid color walls or cabinets to add depth to the final finish. Rubbing glaze on with a rag, stippling it on with a brush, or sponging it onto walls all achieve different and pleasing faux finishes.
Creating Patterns with Stencils
If you love the look of wallpaper but dread the thought of installation and removal, stencils are a great alternative. On a single wall they make an attractive focal point to a room. Or you can continue the stencil onto all of the walls for a stunning allover pattern. Of course stencils don't have to be repeated; one or more well-placed in a room can have just as much (or more) impact than a wall filled with them.
The Right Decorative Finish for Your Home
With such a range of styles, there is a decorative finish that is perfect for every home. And if you are feeling creative, experimenting with faux finishes can be a fun way to express yourself. Of course, if you would rather leave this sort of work to the professionals, there are plenty of skilled decorative painters who can transform your walls into works of art.