Before we dig into this particular topic, we should probably preface it by saying that we love white kitchen cabinets. As a professional painting company, we've painted our fair share of white cabinets throughout Westchester and Fairfield counties, and we enjoy doing it. It's a timeless, classy option that makes spaces feel bright, inviting, and clean.
Perfect for a kitchen.
With that said, there is a world of color out there that's just too big and pretty to miss. Choose white if that's what works for you, but at least peruse your options first.
A Few Popular and Unique Kitchen Cabinet Colors
Pale Green
Don't think "grassy green" or "minty." We're talking a soft, cool green that exudes what could almost be described as a farmhouse vibe. Combined with fresh, white accents, you've got a beautiful style that is simultaneously modern and timeless.
Gray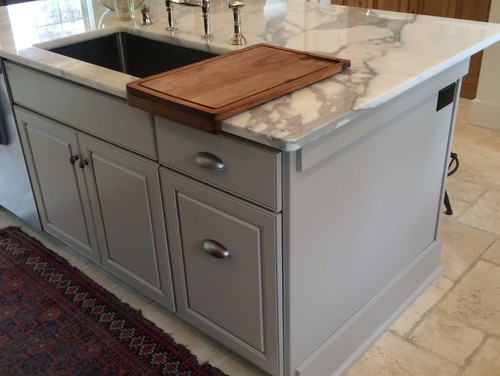 Light gray is fairly common, but darker gray is sometimes dodged for fear that it will become too heavy and dark. You can combat this with lighter accents and plenty of lighting.
And, in case you missed it, the island above is from one of our own project profiles on Houzz.com.
Teal
Think of this as taking the pale green option to new heights. Teal won't work in every kitchen, but it has the potential to create a vibrant, playful warmth. It includes just a touch of old timey, retro style too which is a fun bonus.
Black
Yes, black.
It's dark, but it's also beautiful and rich. We would suggest using this option in kitchens that are a bit more spacious, and preferably have a strong source of natural light.
Create Combinations
Painting your lower cabinetry one color and your upper cabinetry another, or making your island a statement piece, can be really fun. And a bit adventurous. If you want to mix and match, we recommend doing your homework to make sure the colors combine well without clashing or growing too busy. Less is often more!
Contact Your Local Painting Company for Color Selection Help
Talk to your painter! Ask what they've seen work well and what tends to flop, and why. There is no replacement for basing your paint color decisions on your specific space with your specific professional painting ally.