This is a tough question. There's no doubt about it.
For many, the word "wallpaper" leaves a bad taste in their mouth, created by bitter memories of floral prints, dizzying patterns, and curling edges.
The truth is, wallpaper has a come a long, long way, and it is enjoying renewed popularity in commercial settings. Beautifully-hung paper can add subtle sophistication to a waiting area, office space, hallway, or lobby, and there are nearly endless options to fit your space.
So, which is better for your commercial property's common areas? Paint or wallpaper? Let's take a look at a few frequently asked questions to help you narrow your options.

Is Hanging Wallpaper More Expensive Than Interior Painting?
Every project has its own unique considerations that impact price, so there is no way to definitively say yes or no.
Typically, however, professional wallpaper hanging is about 50% more expensive than interior painting (according to our in-house wallpapering expert).  That's not a reason to immediately rule it out – there are other factors to keep in mind that help balance the scales.
Which Lasts Longer? Wallpaper or Paint?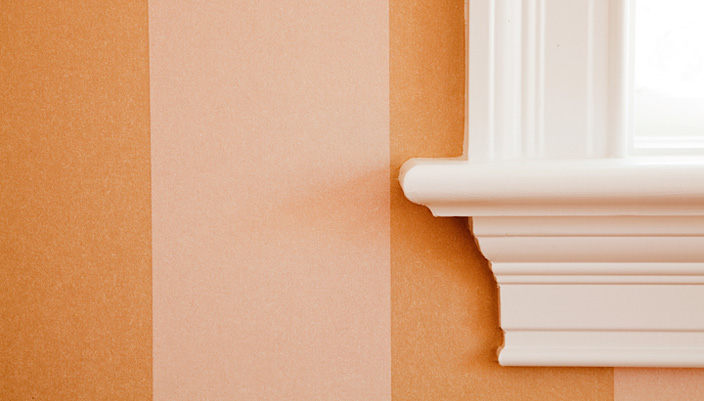 Paint has come a long way, but wallpaper still takes the win for longevity if a quality product is used.
And, it also is essential to invest in experienced, expert application – the process is both an art and a science. For the very best results and value, we recommend looking for an experienced installer who is a member of the WIA (Wallcovering Installers Association).
Is It Easier to Clean Wallpaper or Paint?
This really depends quite a bit on the product you choose.
Vinyl wallcovering systems, for example, are extremely durable and washable. Fabric options, on the other hand, may be more stylish but are not quite as receptive to scrubbing.  
Interior paint can, of course, be easily touched up as needed, and if the right sheen is used for a busy space it can be washed successfully as well.
One Essential Question: How Permanent Is Your Interior Style?
Wallpaper is more of a long term investment. It should be chosen very carefully, and with the assumption that it will be in place for quite a while.
With that in mind, ask yourself how often you'd like to make decor changes, update colors, or change how a room is going to be used. If you want a stylish, long-lasting wall system, wallpaper installation may be ideal. If you want to be able to repurpose and update rooms easily and quickly, however, interior paint would likely be a better option.
Talk to Your Local Wallpaper and Painting Company
Your best option is to chat with an experienced professional who can guide you through the pros and cons of each product. A discussion of your specific space, budget, and goals will make the right choice clear.