Yes.
That's the short answer, but we're guessing you'd like a little more elaboration to make your click worthwhile (we don't blame you).
What we mean by our rather cryptic "yes" is that each technique has its merit, and which technique you choose needs to be evaluated on a case-by-case basis. Some painters are 100% sold on one or the other, when really each brings something special to the table.
Is Spraying a Respectable Way to Apply Paint?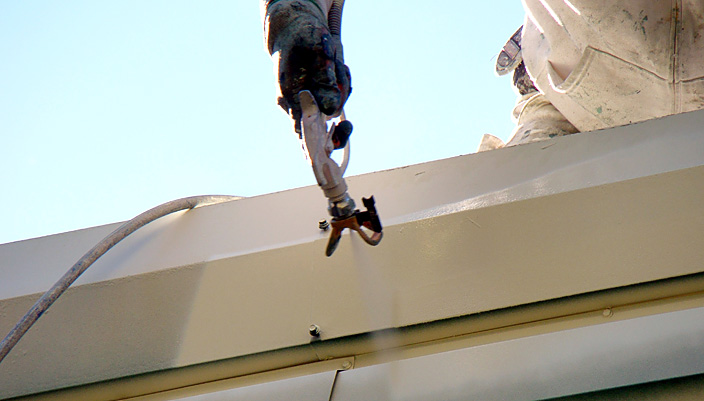 It used to be that spray applications, both interior and exterior, were considered second-rate. Older school painters viewed it as a cheap, low-quality method.
To be fair, early spray equipment was not always the best. There have been major advances since their debut, and today's technicians are trained to expertly manage the process.
Horror stories of overspray also painted sprayers in a bad light (literally). Project containment methods today, however, keep the process under control, and with proper masking the use of a sprayer offers unparalleled painting speed and efficiency.
When does a sprayer really shine?
Built-ins

Cabinetry and woodwork

Long runs

Heavy, deep stucco (as long as it's also back-rolled/brushed)

…and more
Older-School Brushwork Is Still Alive and Well!
We know all about old-school. After all, A.G. Williams Painting Company has been serving Westchester and Fairfield Counties since 1906!
Even though there have been incredible advances over the last century, there still is no replacement for true craftsmanship. Our team may be on the cutting edge, but when the situation calls for it we go back to the basics with a trusty brush and pail of paint.
At the end of the day, the key is to trust your painter. If they are knowledgeable and competent, they will be able to choose the perfect application technique for your home's diverse surfaces.