Despite what home improvement shows and DIY tutorials may say, house painting (inside or out) is not an easy process. The transformations may be alluring, but for the work to be done well it's essential to have the right tools, products, knowledge, and experience.
The first time you try to paint a straight line along a piece of trim, you'll know what we mean!
To help you out a bit during your next painting adventure, we thought we'd share a few tips and tricks that will make your process go much more smoothly.
5 Easy Interior Painting Mistakes to Make (and Avoid!)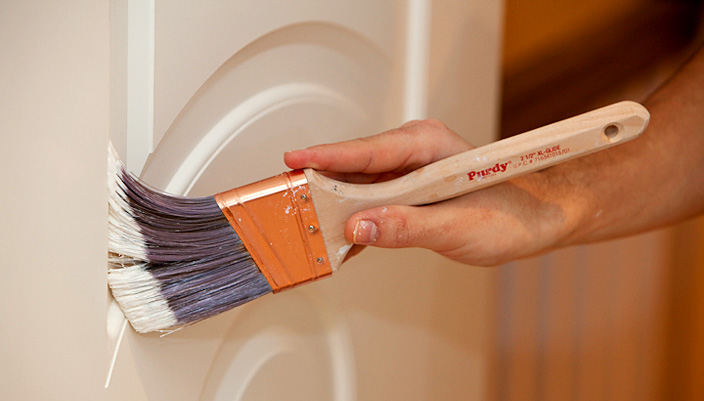 Rushing the Drying Process Between Coats

– This is a common one! It can be tough to wait for Coat 1 to completely dry before applying Coat 2, but it's so important. Rushing the process can result in a streaky, muddy finish.

Peeling Painter's Tape Too Late

– If applying a smooth, clean edge around fixtures or molding is outside your comfort zone, painter's tape can be a real help. Just don't wait until the paint is dry before peeling or else you might find that it takes some of the paint along for the ride. Tattered edges are never fun to fix.

Loading Too Much Paint On Your Brush

– To reduce waste and increase control, only dip about ⅓ of your bristles' length into the paint.

Painting Damp Walls

– Especially in rooms like the

bathroom

that have a high moisture content, be sure to allow plenty of drying time before painting. Running a fan can be a helpful way to circulate the air as well. At the other end of the process, allow a couple of days for your paint to totally dry before you consider it ready for use (in bathrooms in particular!).

Not Priming Over Repairs

– If you filled nail holes, cracks or other blemishes with spackle, be sure to sand the repair smooth and apply primer over it. This will ensure a seamless repair rather than create a ripple on your otherwise beautiful wall.
Our Best Tip – Hire a Reputable Painting Company!
This is truly the best investment you can make in your home, and finding the right pro can save you from a lot of lost time and unnecessary headaches.
If you live in Westchester or Fairfield counties, we hope you'll contact us at A.G. Williams Painting Company. It would be our pleasure to answer your questions!