The outside of your house should be a reflection of who you are, the first impression you make to visitors and neighbors.  However, choosing paint colors for your home exterior can be a challenge; if you make a bad choice, it will be very visible!  That's why we're offering a little bit of guidance here at the beginning of the exterior painting season to help give you confidence as you choose your exterior paint colors.
Like many things, choosing paint colors is a combination of art and science.  In this article, we will introduce you to the basics of both!
The Importance of Proportion
One of the most important principles of design is proportion.  Even if you have all the perfect colors, the effect can be displeasing if they are not used in fitting proportions relative to each other.  One of the most common rules for decorators and painters is called the 60-30-10 rule.
This oddly-named rule explains that 60% of the visible surface should be one color, 30% should be a second color, and the remaining 10% should be an accent color.  How this works out on your home will vary based on the building materials and design.  Typically, the 60% will be your siding, be it bricks, wood, or vinyl.
On some homes, the 30% might be the roof, depending on how much of it is a visible due to the construction style.  Alternatively, this 30% could be your garage door(s) and front door combined.
The remaining 10% of color usage on your home is likely to be trim, such as what outlines your windows and doors, and the fascia, which is the flat surface immediately below the edges of your roof.
Neutrals and Colors
House painters and designers usually recommend using neutral colors for the main 60% of your home exterior.  There are several reasons for this:
It appeals to the broadest range of viewers
It is the least likely to clash with anything
It is least likely to overwhelm the senses
It allows you to draw attention to the special features and details of your house by using bolder colors on those spaces
Neutral colors, strictly speaking, are white, black, tan, and gray.  However, light shades of other colors can also function as neutrals, such as blue, green and yellow.
If your roof is very visible, then the next 30% of your color scheme is already chosen for you, at least until the next time your roof needs replacing. That leaves the last 10%, which is the best part!
Your remaining items for painting can be details like shutters, window and door trim, fascia and doors. For these, it is best to choose a strong color that contrasts starkly with your main neutral colors. You could go with a neutral color here also, such as dark gray or black. However, just about any color is available to you here, from brick red to ocean blue to lemon yellow, and all kinds of in-between options!
The main thing to remember at this stage is that you don't want too many colors. If you go with a neutral for your trim, you could still use one bright pop of red or blue for your front door. Also, you could use a variety of shades of one color, such as light blue shutters and dark blue trim. This gives you more variety, without actually adding new colors to your home exterior.
Breaking out of the Ordinary
If these time-honored principles of paint color selection sound a little too time-honored (i.e. boring) to you, there are many other striking, beautiful ways to paint a house.
One visually-arresting way to decorate your home is to choose a dark color for most of the exterior surfaces, such as dark blue, slate gray, or even black, and then to use a light color for the trim. With a pop of color in the landscaping or on your entry door, this can be a stately, less-conventional choice of paint colors.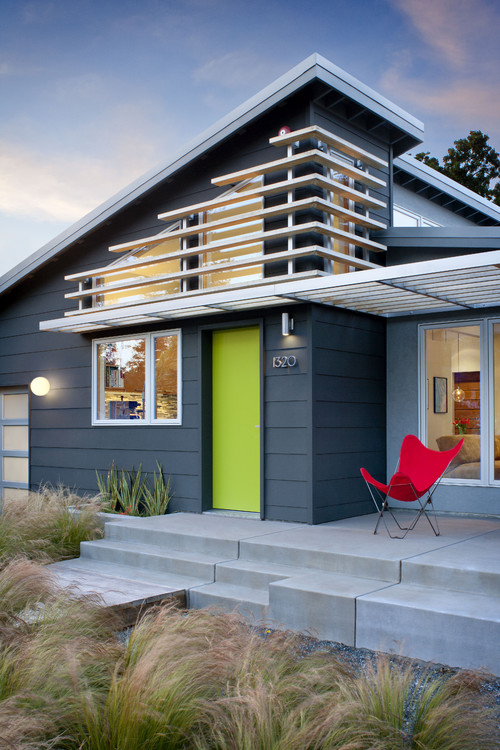 Another option is to choose a bold paint for your main exterior color, and then use neutrals for your trim and details. If you do this, it usually looks best if your trim color is either much lighter or darker than the dominant wall color, so that it stands out well and adds definition to the appearance of the home.
Look around Your Neighborhood
Unless your house is totally isolated from anyone else's, it is important to consider the homes near you as you choose exterior paint colors. While your house does not need to match closely with those of your neighbors, it could create an unpleasant effect (visually and relationally) if your house clashes with theirs.
Looking around your neighborhood can also be helpful in that it can give you ideas for your own home. Since the houses around yours are probably of a similar era and style as yours, think about what works well (and what doesn't) in your context, and use that to help you make a decision.
Look for Ideas Online
If you feel like your creativity could use a boost, looking online is a great way to get more ideas for your house paint colors. You can look on a site like Houzz or Pinterest to get thousands of inspiring photos that can refresh your perspective on exterior painting. One thing to remember, though, is that a paint scheme that looks great on one house might look terrible on another; you need to focus on pictures of homes that have a similar style to your own.
Get Color Advice from Your Painting Contractor
For homeowners in New York and Connecticut, A.G. Williams is happy to offer professional color consultation as part of our services to our clients. We can help you select just the right colors that will fit your home, your taste, and your neighborhood!
Besides exterior painting and color consulting, we also offer faux painting, cabinet painting, deck staining, interior painting, and much more. Call us or contact us online for a free estimate!