Sometimes, it's time for a complete repaint of your home exterior. It's a big project, but it gives such a great payoff! However, you don't need to paint the whole house to give it a refreshing facelift. With a little bit of paint on your front door, the shutters, and/or the trim, you can have a striking new look with a fraction of the investment!
Of course, the question is what color to paint those key items to create a pleasing, attractive aspect to your house exterior. We'll take some time to address each of those items individually, and we'll also consider them in relation to each other.
Painting Your Front Door: What Color to Use?
The front door of your house is not the place to be timid with paint colors! It is a relatively small surface, so it is good to use it for a bold impact. Also, it provides the entry point where your guests come into the home, making it a great place to make a statement and give a pleasing welcome.
Recent years have seen a strong trend towards painting the front door red. The popularity of this choice has good reason behind it; the red door is striking, warm, attractive and welcoming. If you're not excited about a bright red, you could go with more of a brick red or a deep maroon.
Navy blue and forest green are also excellent choices of paint colors for the front door, giving a cooler, but no less beautiful aspect to your entryway.
Finally, black has also become a popular paint choice for front doors, making a bold, modern statement that is by no means gloomy or unwelcoming.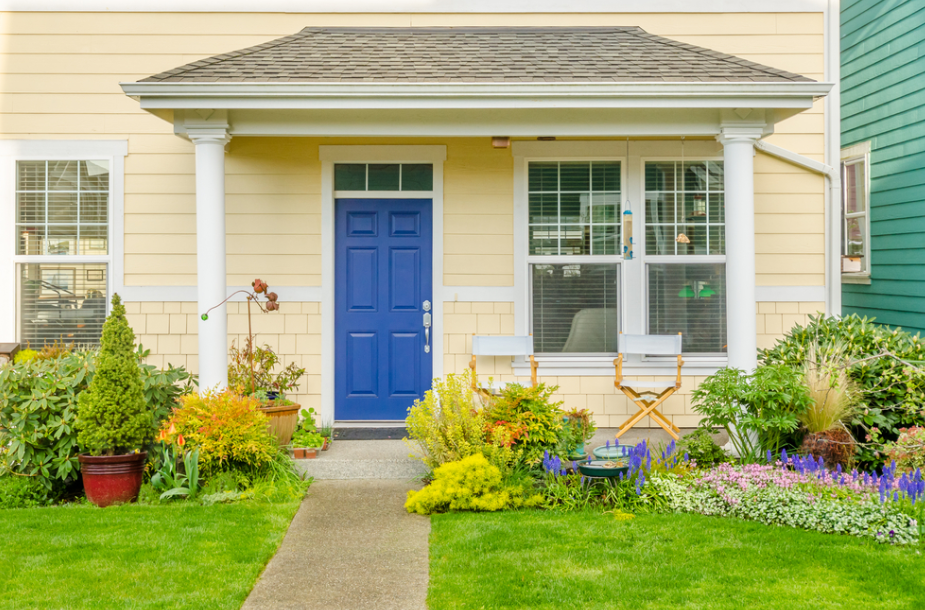 Does My Front Door Need to Match My Siding or Shutters?
Because your front door is a unique item (as in, you only have one front door on your house), it is fine to have it really stand out from everything else. When you use a different color on the front door than on the rest of the house, it creates a focal point, a visual accent that draws the eye and provides interest and variety. So no, you don't need to paint the door the same color as some other part of your house.
That said, you don't want to choose something that clashes terribly. If the other colors on your home are neutrals, such as beige, white, black, gray or brown, just about any color will work for your front door. However, if you have non-neutral colors on your siding, trim or shutters, don't choose a clashing color for the front door.
What Color Should I Paint My Shutters?
If your home has shutters, you have a wonderful opportunity to add uniqueness and style to the exterior of your home. But how do you choose the right paint color for your shutters? Should they match the front door? Should they match the trim?
Your shutters should coordinate well with these other items, but they absolutely don't have to be the same colors as each other. One option is to use the same color, but a lighter or darker shade of the paint, adding variety without the risk of clashing. Another common idea is to use complimentary colors, which are opposite each other on a color wheel. For example, red and green, or yellow and purple. Lilac or Lavender shutters would look very striking with a yellow front door!
One thing to keep in mind is that bright colors (like fire-engine red or treefrog green) are harder to harmonize with on your home exterior. You will have an easier time with deeper shades of these colors, which can blend and coordinate with a wider range of options.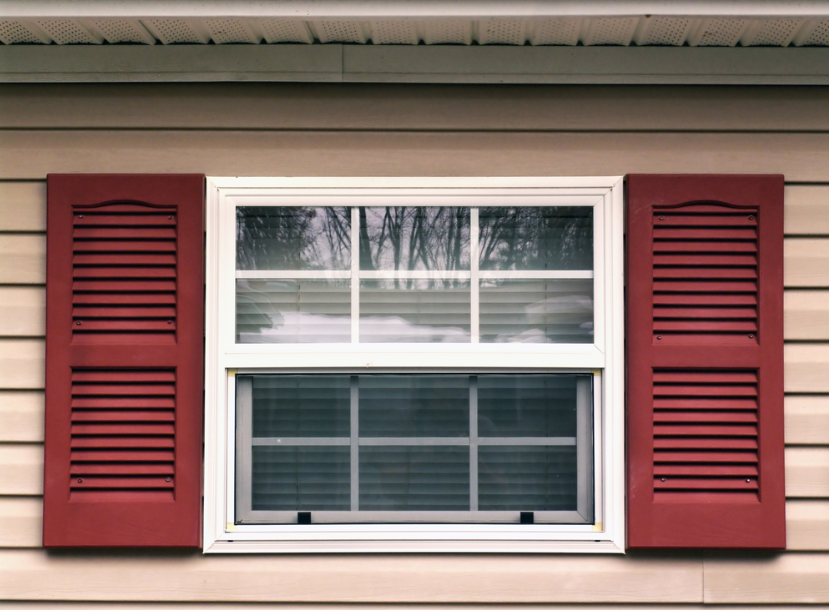 What Color Should I Paint My House Trim?
The biggest factor to keep in mind when choosing a trim paint color is contrast. The trim provides definition and distinction to your home exterior, but if it is a similar color to the siding, it loses the opportunity to make an impact.
If your siding is white, then you have a wide variety of options available to you. You could go with black trim, which makes a beautiful contrast, and leaves you with lots of options for shutter and door colors. Or you could use a colored trim, and coordinate the trim color with the shutters and front door. Finally, gray can also be a great trim color to go with white siding.
If you have a brick home, white makes a very attractive trim color, and then you could use blue or green for shutters and door.  Alternatively, deep brown or forest green would look great as trim colors with red bricks.
When your siding is another color, you'll want to choose a trim color that provides contrast without clashing. White is always a wonderful choice, by far the most popular, and black and brown are also common go-to options.
Help for Choosing Exterior Paint Colors
If you are looking to spruce up your home with exterior painting on the door, trim, or shutters, a professional color consultation might be the best way to get creative ideas that will work really well for your house. Every house is unique in terms of its specific setting and attributes. A professional color consultant can help you consider some of those items, and how they affect your color options. For example…
With the specific lines and features of your home, what aspects do you want to draw attention to?
Considering the other homes around yours, what colors would look especially good? Which ones would look out of place?
Is your house built in a specific architectural or historic style that lends itself to some colors better than others?
Professional Painting and Color Consulting for New York and Connecticut
When you work with A.G. Williams Painting, you get a professional color consultant and a painting contractor with one call! We offer all kinds of services for exterior and interior painting, and we make every part of the project pleasant for you, from the initial conversation through the final cleanup.
For over 100 years, A.G. Williams has been serving Westchester County, NY and Fairfield County, CT. Our commitment to excellence pervades every aspect of our service, and you can tell the difference in our work!