The leaves on the trees announce the news: summer has ended, and a new season begun! Swimming pools are covered, pencils sharpened, and the autumn and winter holidays are just around the corner. Here at A. G. Williams, we feel the chill in the air and know that the exterior painting season is drawing to a close. Our remaining days of being able to paint outdoors are filling up fast, making now the perfect time to schedule your interior painting projects before our winter calendar is booked!
As you anticipate the coming holidays, if you would like to have interior painting projects done to have your home ready for the festivities, make sure to contact us soon so we can fit you in. Be prepared to have this holiday season be your brightest yet.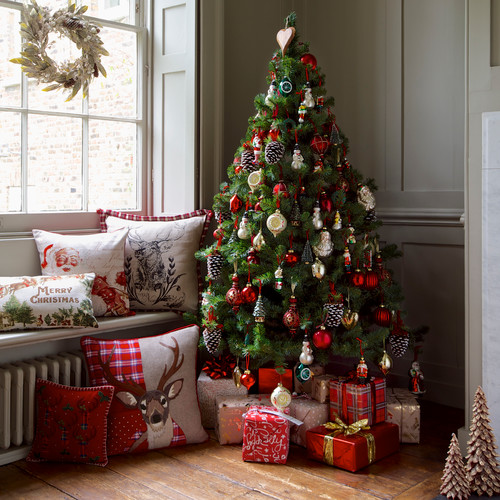 Be Ready for the Holiday Season
Looking ahead to Thanksgiving dinners, Christmas cheer, and New Year's parties? These are joyful times of celebrating together, focused on family and friendship, food and fun times. These are also times where we usually have extra opportunity for hospitality. Whether you have family from out of town stay with you over Thanksgiving weekend, co-workers over for a Christmas party, or host a big New Year's Eve Bash (or all of the above!), you will most likely be welcoming people into your home over the holiday season. What better way to prepare than to refresh your home with new paint? A newly painted room can feel like a whole new place; clean, fresh, delightful, and even surprising.
Here are some popular rooms to repaint in preparation for Holiday Hospitality:
Brighten up an Entryway or Foyer
This is a natural place to start, as it is the first place your guests will see, creating a first impression as they step into your home. More than just a place to hang coats, your entryway communicates something to everyone who comes into your home. Choose a color that represents who you are and the atmosphere that you want your home to have. Having it repainted may also be the inspiration you have been waiting for to get your entryway organized and maximize it usefulness as well as its beauty.
Choose a high-quality paint that can be wiped, as entry ways are high-traffic areas that can often become scuffed or dirty.
Exhilarate your kitchen
Kitchens are called the heart of the home for good reason. Much of our daily lives often involves our kitchens. And hospitality often revolves around our kitchens, as we prepare food, eat together, and somebody has to do all the dishes! Being a central gathering place makes the kitchen a great space to invest some extra love into. Keep it delightful!
If you are a cook, and likely to be spending hours in your kitchen preparing for holiday guests and feasts, consider treating yourself to a fresh look. Clean, crisp, and inviting, new paint will make you want you want to show off your kitchen as well as your culinary skills. Having your kitchen repainted can put a whole new zest into this important place.
Freshen a Guest Room
Another great choice as you prepare for company is to repaint your guest bedroom. Having a whole new look and fresh paint colors will help this special place to be appealing and delightful for your company to stay in. Making the investment of having it painted will show your guests that you value them and want to make their stay with you comfortable and pleasant.
You can choose colors to help create the atmosphere that you would like to offer your guests. You may want to focus on bright and cheerful, creating a sunny yellow room that brings a smile and feels warm even in the middle of winter.  Or you may want to offer a peaceful retreat, where your guests can relax in soft earth tones. Complete the effect and make your guest room 5 star with a new bedspread that compliments your paint color!
Spruce up a Bathroom
While often overlooked, the bathroom may be the secret to truly great hospitality. Whether you decide to have your main downstairs bathroom painted, or a guest bath off of your guest room, you can get a lot of bang for your buck in repainting a bathroom. Most bathrooms are small and are a quick job to have repainted. Yet the transformation can be amazing! A sparkling new bathroom is inviting. A guest bathroom is also a great place to work in a bit of whimsy.
As you look at your home, see if one or more of these rooms are something you would like to have a painting contractor help you get ready for your holiday season.  If that is the case, now is the time to book if you would like to have this work done before Thanksgiving arrives!
A Painting Contractor at Your Service
A.G. Williams has been helping families to enjoy beauty and quality in their homes for over three generations. Our many years of experience and commitment to excellence provide us with a wealth of knowledge on how to work with our customers to achieve exactly the look they are hoping for.
Some of the key ways that we achieve total satisfaction for our customers are giving attention to details in Communication, Preparation, Color Choices, and Professional Application.
Communication is an important two-way key as we learn what your goals and ideas are for your home, and give you clear and honest explanations of prices, products, and processes. We strive to suit your schedule and work at times that are convenient for you.
We also focus on excellent preparation of the areas to be painted, so that you will enjoy the finest, longest-lasting interior painting results.
If you want your house to shine this holiday season, please, click here to schedule a FREE estimate today! You can also call us at if (800) 277-1906 you have any questions. We look forward to hearing from you!