Hanging wallpaper is an art!
And, not every contractor that you hire will be up for the task. Through the years, the wallcovering industry has changed. Although we have all walked into a room filled with a disorienting array of florals and plaid patterns, a true artist can look at a room and transform it through tastefully chosen wallcoverings.
One of the biggest nightmares for home renovators has been the challenge of removing old wallpaper.  After years, old wallpaper can be very tricky to remove. If removed incorrectly, the damages to the wall underneath can be considerable. To avoid this, verify that your pro knows how to remove paper with minimal surface damage.  
When you hire the right pro, they will know the correct way to install your wallpaper. A properly prepared wall means that when it is time for an upgrade, and the wallpaper is removed, you are left with a clean slate.
Adding wallpaper to a room is an investment. With the rising costs to manufacture, and the fact that not all latex and acrylic products are suitable for installation, it is imperative that you get a solid estimate. Your wallcovering pro will take the time to give you a correct estimate for both products and exact amount of wallpaper needed for the project. This will cut down on surprise costs during the project.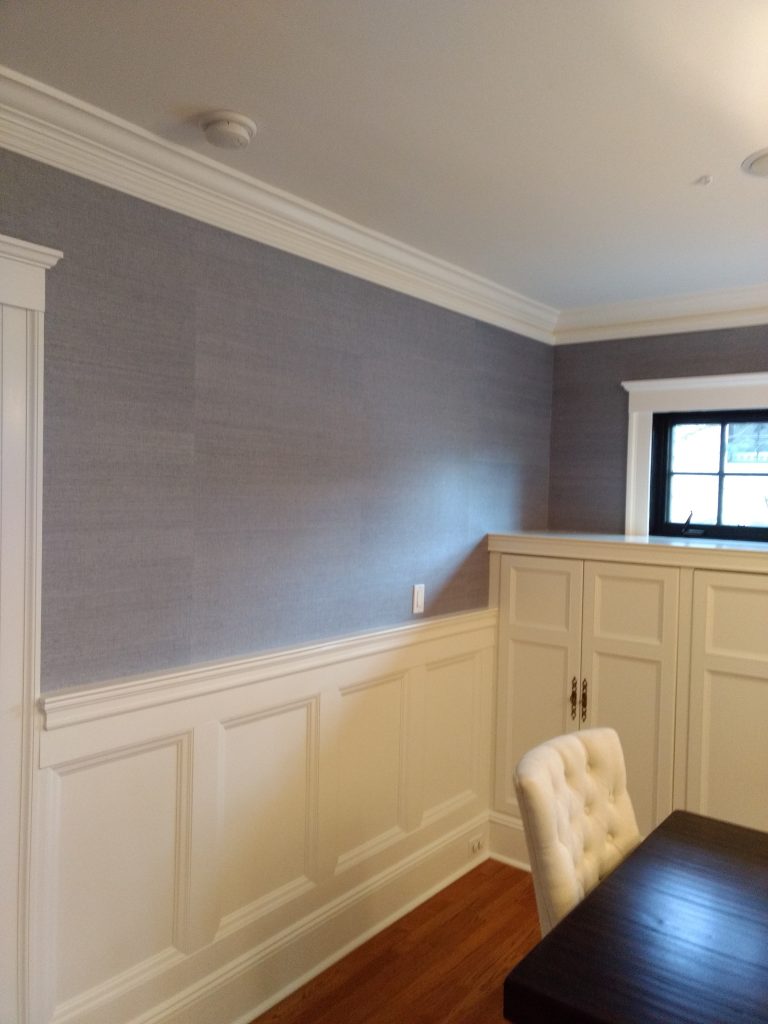 What are some of the benefits of wallpaper?
Wallpaper has some very special advantages. Although both paint and wallpaper will brighten up a room, a well papered wall will cover up imperfections. If your walls are damaged, or uneven, wallpaper can camouflage these blemishes.
Many historic homes are covered in wallpaper. Although wallpaper was common in the past, it also serves a utilitarian purpose. For older homes, with irregular architectural features, wallpaper can help blend and soften the irregularities.
Wallpaper is interesting!
The dizzying array of patterns, prints and colors that wallpaper comes in means that you will find a paper to fit any style. Although adding it to an entire room is more expensive, you can use it as an accent color to a single wall, nook or space.
As you can see from one of our most recent jobs, adding wallpaper can influence the feel of any room. In this case, the dining room has an added air of elegance with the presence of wallpaper.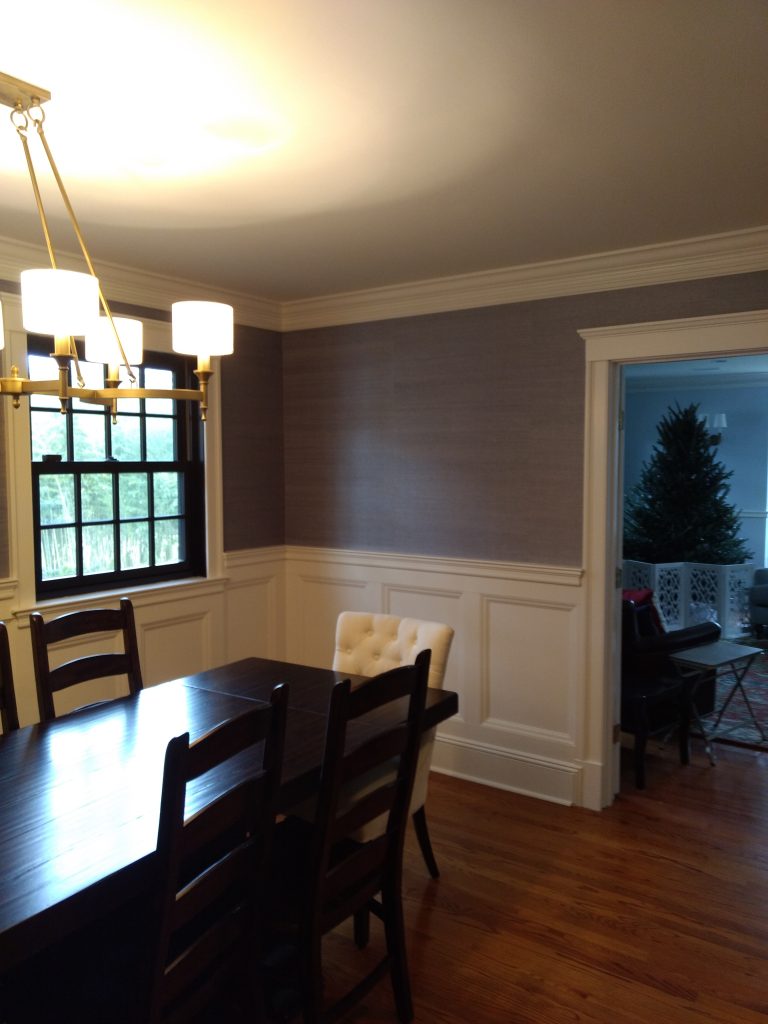 Know your paper
There are so many different types of wallpaper. You can find water resistant wallpaper for bathrooms and kitchens. Some wallpapers are kid friendly. Dark colors, vinyl paper and kid friendly prints lend themselves well to busy little hands. Other papers, such as grass cloth, are more delicate. They will not withstand wiping or washing and should be saved for areas with less traffic.  
Classic interior decorating choice
Adding wallpaper is a classic choice for any home. Take the time to do your research. Have an understanding of the challenges of installation, and take care to choose the right wallpaper to fit your style. If you know the perfect place in your home, but feel overwhelmed by the task, bring in your trusted pro. They will be knowledgeable, skilled and able to help you every step of the way.