It's expected. During this time of year when everything is drab and dreary, we start looking around our homes to find ways to add some colors indoors. Because kitchen renovations add value to your home, and are also a focal point when visitors come, you may feel like this is a natural place to start.
However, kitchen renovations are definitely not on the cheap side of interior updates. To help offer a little inspiration, we've compiled a list of easy ways to update your kitchen without remodeling! Transform the entire space but leave the cabinets and layout as-is.
Sound impossible? We promise it's not.
Add a surprising pop of color!
While you may think of the kitchen as a place to stay traditional (think warm cherry stain, or pristine white) there are so many opportunities to add a surprising burst of flavor!
You can create a focal point by painting your kitchen island a fun, bright color. This adds visual variety and personality, similar to an accent wall. Plus, it's a great way to add some color without overwhelming the space.
Choose an accent wall
And speaking of accent walls, they are a fun way to update your kitchen without a huge upfront cost!
These are our suggestions for choosing which wall you should paint with your accent color:
Natural focal point: where does your eye travel first?

The shortest wall – width wise – in the room

Walls with no windows, doors or cabinets
Wallpaper is sometimes a dirty word in the vocabulary of homeowners, but it doesn't have to be! Did you know that wallpaper is making a huge comeback, and makes an AWESOME accent wallcovering?
If you are nervous about adding wallpaper to your wall, consider hiring a wallpaper pro! Our resident wallpaper expert, Doug Kitchen, has been installing wallpaper for years. A skilled wallpaper installer will use the best quality product and use materials that can be removed without damaging the wall.
To tie everything together, consider using this same accent color in your decor. Dishes, furniture and art all work together to bring harmony to your room.
Skip the white
Neutral colors are often the go-to for homes. Classic white kitchens are always stunning, and if you like the look, but want a little more color, consider introducing a muted shade. Soft grey, such as Benjamin Moore's Metropolitan AF looks stunning on walls and kitchen cabinets.
Since this is focused on simple renovations, the goal is to introduce color without having to replace expensive items around your kitchen. Grey is a neutral that will go well with most backsplashes and existing countertops, making it a natural choice for a kitchen that needs new life. Plus, it complements stainless steel appliances!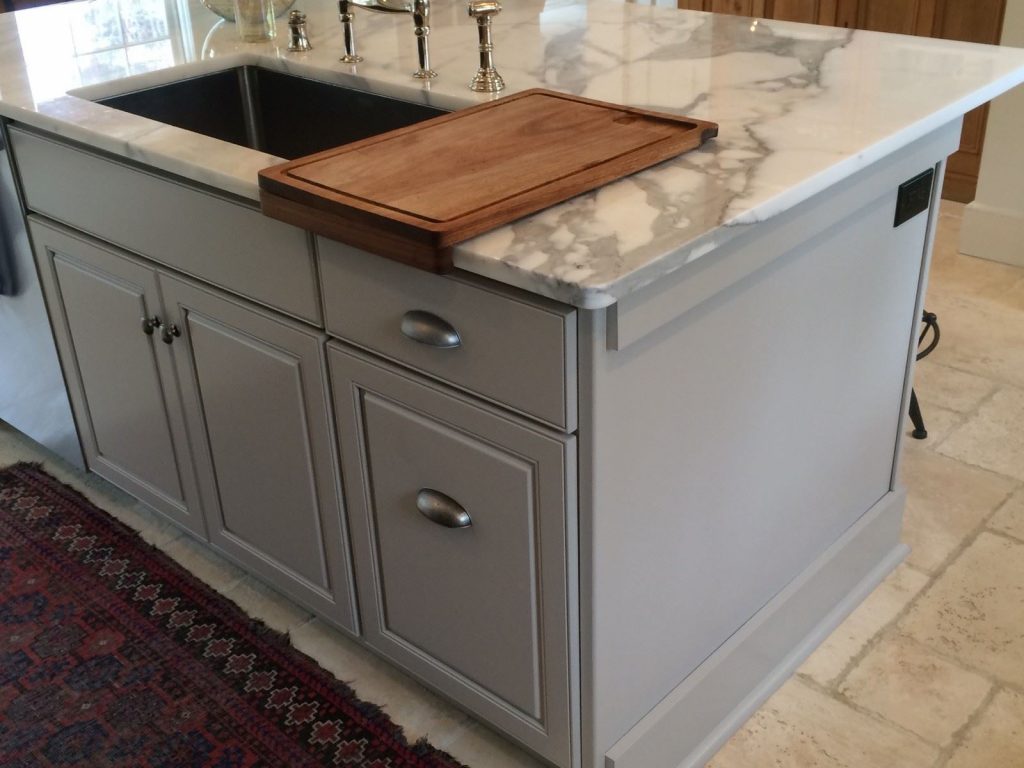 Hire the right pro
Behind every successful kitchen renovation is a homeowner who had a vision, and their trusted painting pro who helped make that dream a reality.  
A.G.Williams Painting has been serving Westchester and Fairfield counties since 1906! We are one of the most trusted and respected painting companies in the area, and strive to bring the highest quality of work to all of your painting needs. Schedule an estimate today!