It's time to refinish your kitchen cabinets. You've done your research, decided that refinishing is the best choice for your cabinets, and the next step is finding the best contractor for the job.
Of course, there are countless contractors out there  who are offering their services. How do you know which pro to hire? To help you in your search, we have compiled a list of questions to help you sort through the competition.  
Are cabinets your specialty?
This may seem like a curious question, but painting cabinets requires niche skills and lots of experience. Not all painters have the background required to tackle your job.
Cabinet painting can be done by rolling and brushing, or spraying. If the painter is not familiar with the proper steps, the results may lack that factory finished look. Save yourself some pain and hire someone who refinishes cabinets on a regular basis.
What is your painting process?
Another way to figure out if you have found the right professional is to ask about the steps they take. This will help you understand whether or not they know the proper process.
A properly prepped surface will have been cleaned, sanded and then primed. Adding a primer layer is key. Without it, the final coats will not adhere correctly, and the grain of the wood will begin to show through. Plus, without primer your top coat will not hold up.
The simple process of asking the right questions will help you avoid issues and hire someone who will help you transform your kitchen.
Can you show me samples of your work?
A quality pro will be able to provide sample boards of their work. Sample boards will show you if the painter is skilled in cabinet refinishing. Plus, you can compare samples from potential painters to decide who is up to the task.
This is a quick, tangible way to gauge the skill level of your potential contractor.
Can you provide references?
A referral goes a long way in the world of cabinet painting! Ask potential contractors if they have any referrals who would be willing to share their experience. You can also go online to find reviews. The Better Business Bureau and Google Reviews are both reputable places to start.
Photos are another great way to both gather inspiration, and see some of their previous work.  Often, professional cabinet painters will be posting their work on social media. AG Williams Facebook page is regularly updated with current projects! Plus, you can read what other people are saying about our work.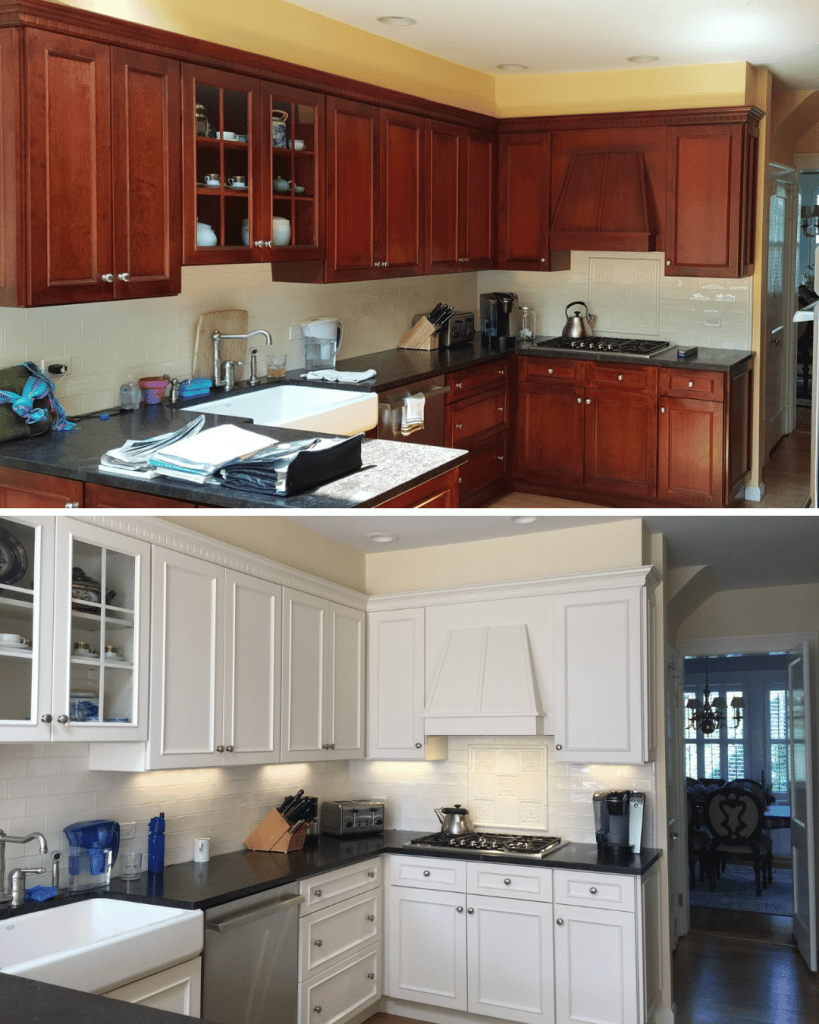 Are you licensed and insured?
This is an incredibly important question to ask! Not all contractors are licensed and insured. Unfortunately, there are times when workplace accidents do occur. A committed contractor will take steps to protect their team, and your home through liability insurance.
By verifying that your professional painter has taken the proper legal steps, you can confirm that your home will be protected.
How can we help you?
AG Williams Painting has been around for 113 years. We have a dedicated crew who has been educated in the painting industry, and a dedicated team who are ready to tackle your kitchen cabinets.
Whether we are refinishing your cabinets, helping you with interior painting projects, or even helping you with the design and color process, you will find that our longevity as painters sets us apart. Our quality speaks for itself. Schedule your estimate today.