Wallpaper gets a bad rap. When you hear the term, you may think of dated, faded and peeling walls, but this isn't the case anymore!
Wallpaper used to be extremely difficult to remove. Anyone who has tackled a home renovation knows that old wallpaper is fragile, sticky and can cause considerable damage to the wall. Because of this, many people shy away from adding wallpaper to their home, without realizing that the wallpaper game has been revolutionized.
Today, the products used to create the wallpaper, and apply it to the wall, are much better quality. When properly installed by a professional contractor, your wallpaper can be removed with no residue, and no damage to your walls.
Why choose wallpaper?
Paint is cheaper than wallpaper. As you look through your home, and are ready to do some updates, you may be tempted to skip the wallpaper for its cheaper (and less daring) counterpart. However, there are several key benefits to choosing wallpaper over paint
Wallpaper is more durable than paint

Wallpaper has a longer life-span

Wallpaper offers more style choices
When it comes down to it, the choice to pick wall covering options that withstand the test of time will always be the most economical choice.
Types of wallpaper
One of the best features of wallpaper is that it comes in array of textures. Different spaces throughout your home require specific types of wallpaper for the best durability.
Non-woven

: breathable, washable, and tear-resistant

Vinyl

: water and vapor resistant. Ideal for bathrooms & kitchens

Flock

: 3D quality adds dimension and touchability. Absorbs sounds

Anaglypta

: Versatile, paintable wallpaper. Great for heavy traffic areas

Grasscloth

: Muted style that adds texture to the room. Hides wall imperfections
Choosing the right wallpaper for your home
When you are ready to add wallpaper to your home, the choices can be overwhelming. How do you go about choosing textures, patterns and colors that will look best in your home?
First, know your room. If your room has a lot of light, and you want to keep the feel, make sure that you choose a texture and color that is subtle. Warm, cozy rooms can be dressed up with bolder colors and patterns.
The style of your home will also dictate what type of wallpaper you choose. Floral and botanical patterns are in style right now. If you want a vintage feel with a modern air, these patterns are a great start.
For a more modern look, stripes and geometric patterns are a fun way to add visual interest to your walls.
Remember, you don't have to use wallpaper on every wall in your house. A strategically placed accent wall can bring life to a room, and is a great way to ease into the world of wallpaper.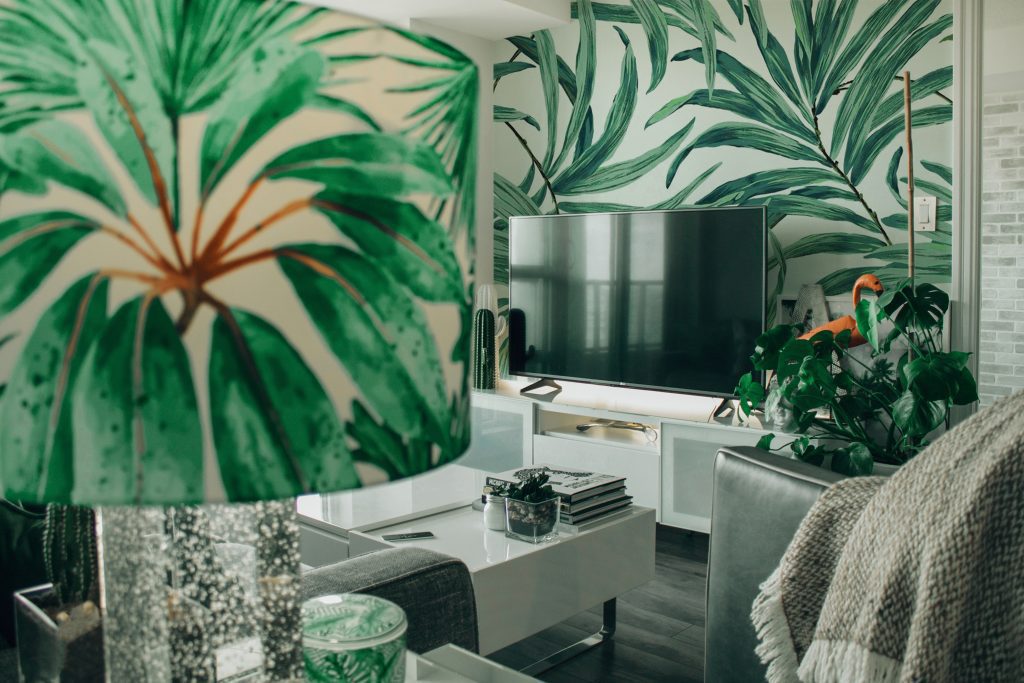 Need an extra hand? Hire a wallpaper pro
Wallpaper can feel intimidating. Choosing the right color, pattern, texture, and finding the perfect wall is a process. AG Williams has a dedicated Interior Design team who will sit down with you and discuss the best way to introduce this fun covering to your home.
The right application process is key. Doug Kitchen, our wallpaper expert since 2010, graduated from the United States School of Professional Paper Hanging, and was the former President of the Westchester Chapter of the National Guild of Paper Hangers. He understands the industry, and the process it takes to properly apply (and remove) wallpaper.
If you want to learn more about this increasingly popular trend, and receive an estimate to add wallpaper to your home, reach out to our team today!