Epoxy coatings have been the go-to option for coating concrete floors for a long time. In some situations, they're a good solution and can offer benefits that shouldn't be diminished.
However, since they've been around for so long, and are used in SO many situations, it's easy to assume that they will be the best choice for your garage.
We would venture to say that epoxy is not the best option for your garage, and here's why.
#1: Epoxy has weak adhesion
Epoxy has a significantly stronger adhesion than paint. However, compared to polyurea, there is no comparison. Our polyurea 1-Day floor coating comes with a 15-year warranty that covers chipping, peeling, and delamination. Epoxy does not offer this.
#2: Epoxy takes multiple days to fully cure
Epoxy floor coatings take a minimum of 5 days until you can drive on your floors. Our floor coating is drivable in just 24 hours. This is ideal for both homeowners and business owners as there is no long drying time.
Five days is a long time to keep the kids and dogs off the driveway and finding street parking instead of pulling up in your garage. Not to mention five days is a long time to be shut down for business while the floors dry. Plus, the long cure time invites bugs, dust and other contaminants to get caught in your beautiful floors. Our 1-Day installation makes polyurea perfect for nearly all applications.
#3: Epoxy fades
Epoxy is tough, but unfortunately not against UV exposure. That super cool floor color will not hold up under the sun and that's disappointing!
That means that patios, walkways and pools are off limits for epoxy, and you should even limit how long your garage door stays open.
On the other hand, polyurea is 100% UV stable – with a lifetime warranty to back up that claim.
#4: Epoxy sticks to the wrong places!
Unfortunately, epoxy doesn't stay where you put it. On hot days, you run the risk of peeling up the flooring as you drive away. Hot-tire pickup is a massive problem with epoxy.
Many people choose to cover their floors with rubber mats, but then you've masked your beautiful floors! Our 1-Day floor coating chemically bonds with cement. This makes it virtually impossible to peel!
#5: Epoxy is inflexible
Epoxy never fully cures. Instead, it will continue to harden indefinitely. This means that over time, it becomes brittle. The more brittle the coating, the more it becomes compromised during temperature fluctuations that cause the cement to expand and contract. Polyurea is 10x more flexible than epoxy.
#6: Cool temperature applications are tricky
Here in the northeast, we deal with a lot of cold weather. Epoxy is finicky and the temperature needs to be just right in order for it to cure well. This means that epoxy can only be applied during certain seasons and that's just not practical in our area!
Our 1-Day floor coatings can be applied in temperatures below 32 degrees. We can install these coatings any time of the year. If winter is your slow season and the best time to recoat your floors, our 1-Day floor coatings are up to the task. Epoxy is not.
AG Williams Painting specializes in 1-Day floor coatings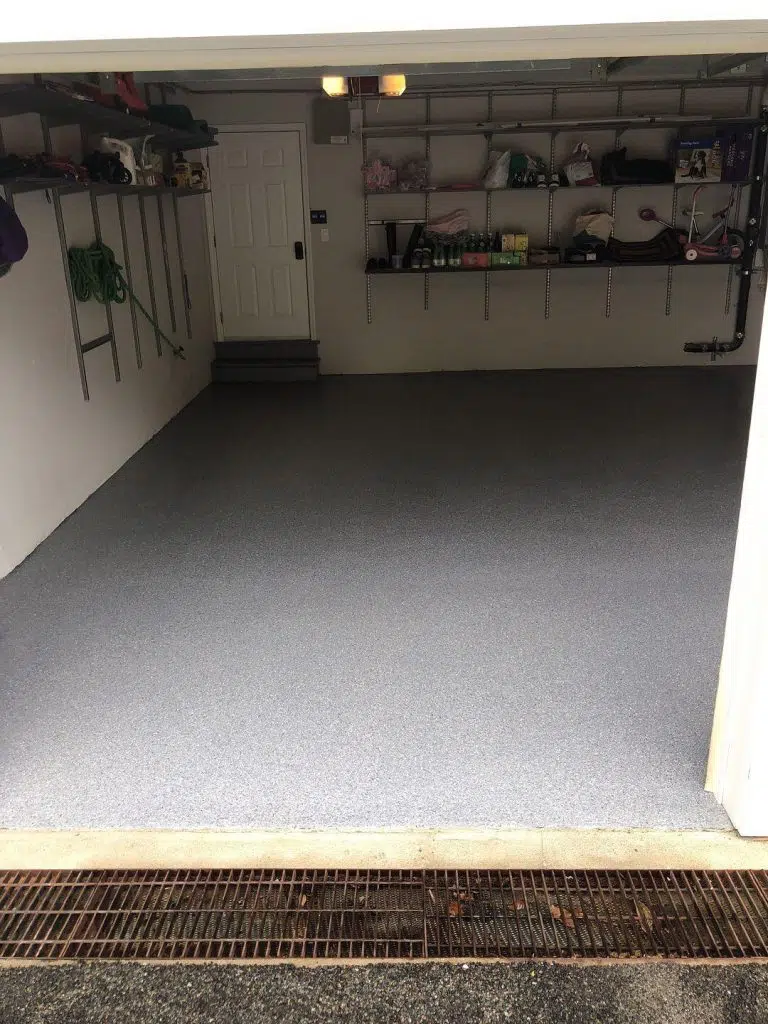 Our 1-day floor coatings:
4x Stronger Than Epoxy

Will Not Crack or Chip

1-Day Installation

15-Year Warranty

Slip-resistant
We chose polyurea floor coatings for a specific reason, and we stand behind our products. Head over to our Facebook page and see some of our recent floor coating projects. If you have any questions, or want a free estimate, reach out to our team!