If you've been on our Facebook page recently, you've probably seen our concrete floor coatings. They are becoming incredibly popular and for good reason. We have a team on our page ready to answer questions each day, and people have had some GREAT questions!
We decided that it was time to go over some of the questions that we see most frequently. If you have a question that isn't on this list, don't hesitate to ask. We're excited about our flooring and love to talk concrete. 
Is This Coating DIY Friendly?
As talented craftsmen, we understand the pleasure of doing things on your own. There's nothing as satisfying as finishing a project that you created with your own hands. 
Unfortunately, this is not one of those projects (unless you have the right tools and experience). Big box stores offer epoxy products and floor paint, but they do not compare to our floor coatings. 
Our team is fully-certified after going through extensive training to become an official Penntek dealer

We have industrial-grade equipment. Our grinder is one of the most crucial parts of the preparation process.

Polyurea and epoxy are very different! Polyurea is 4x stronger than epoxy, it will never crack peel or chip and is slip resistant!

Our flooring comes with a 15 year warranty!
Can You Coat Driveways, Patios and Walkways?
Although a lot of our photos are from garage projects, we can coat outdoor surfaces as well. Patios, poolside spaces, walkways and driveways look really nice after they've been coated. Plus our 1-Day floor coatings protects your outdoor concrete from the elements.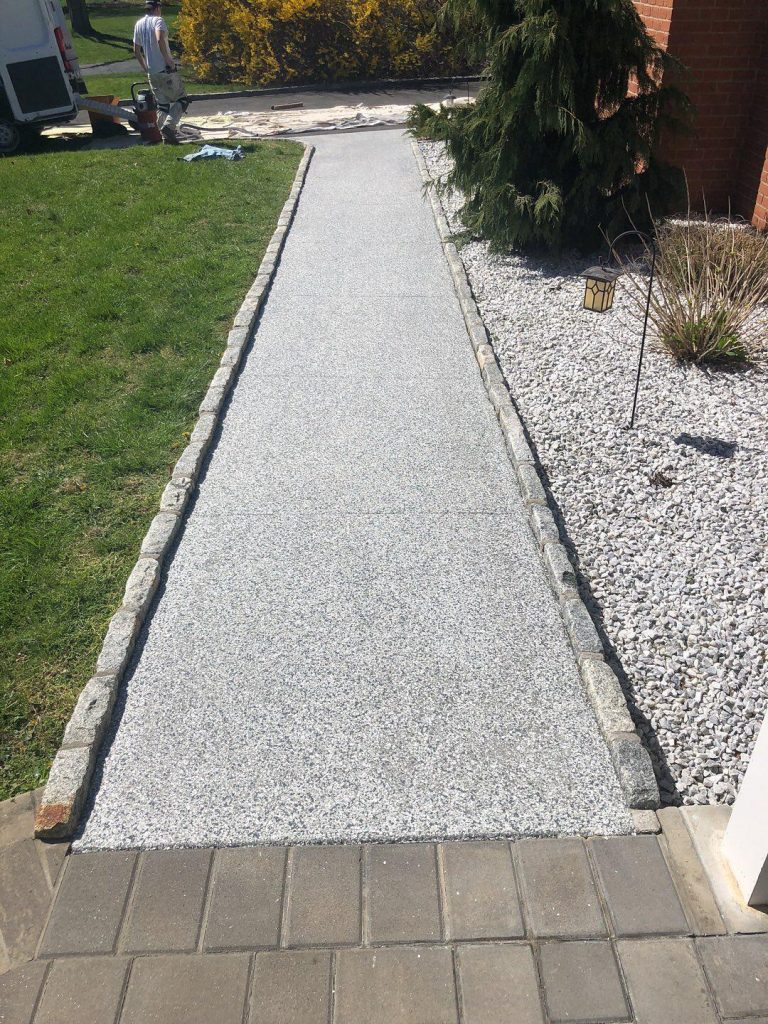 Do Your Concrete Coatings Have a Smell?
If you've ever smelled epoxy, you know that it has an odor that can linger for a long time. 
Our polyurea system adheres much, much quicker than epoxy. Plus, it is a low-VOC formula. This means that it doesn't have much of a chemical odor and is much more environmentally friendly. We can even coat basements with little ventilation. 
How Long Does It Take To Dry?
Epoxy takes about 5 days (or longer) to dry. Believe it or not, our 1-Day floor coatings are:
Safe to walk on after 12 hours.

Safe to move items back in after 24 hours.

Safe to drive on in JUST 48 hours!
Is It Slippery?
Since we coat both indoor and outdoor surfaces, this is a common question. The short answer is no! If you feel the surface, you can tell that it feels similar in texture to an orange peel. This surface exceeds the traction requirements outlined by the ADA (Americans with Disabilities Act). 
For areas like steps and pools, we can add a special additive to increase the traction even more. Safety first!
Concrete Floor Coatings in New York and Connecticut
We hope that this Q&A has helped you learn a little more about our floor coatings. Are you excited yet?We offer 1-Day floor concrete floor coatings, interior or exterior painting, cabinet refinishing and much more. For a free estimate, call us or fill out our online form.