Color trends are fickle, swinging back and forth from year to year, sometimes favoring bolder options and other times leaning toward more subtle neutrals. 
If we had to name one constant, however, that stands strong amidst all the swirling tides of color preference, it would simply be white interior paint. No matter what else happens in the world, white paint is always "in." And, it's available in countless shades and variations, from cool to warm, grey-ish to beige-ish.
White kitchen cabinets are more popular than ever, too! Some folks still prefer natural stain, or darker colors, but there's no denying that white is head and shoulders above the rest.
So, what's the deal? Why is white paint so popular? It really all comes down to its incredible versatility.
3 Key Benefits of Painting Your Walls White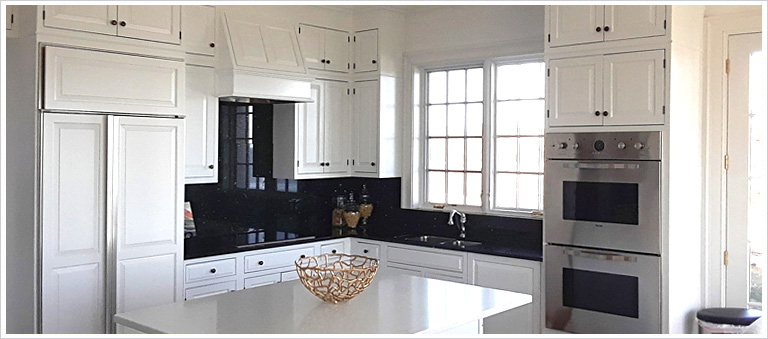 A Blank Canvas – For some, white is just boring and blank, but for others it's the perfect backdrop for any other colors and styles you want to add to the space. Coordinating colors? Not an issue. Flashy artwork? Bring it on.
Easy To Update Decor – There's nothing worse than bringing a new sofa home, then realizing you need to paint the walls. The clashing struggle is real… unless you have white walls. 
Let Your Floors Steal the Show – We also love when people bring some serious color in their floor coverings. Normally the walls steal the show, and the floors are more of an afterthought – why not switch it up? It can be a fun way to create a bold, beautiful statement. 
And remember, white doesn't need to be clinical, or the color of printer paper. There's a whole world of variety for you to pick from, and the benefits still stand.
Pro Tip:
Love the idea of white walls but crave color? You can have both! Paint 3 walls in white, and then the fourth with a more vibrant accent color to anchor the room. The effect can be pretty incredible.
Professional Interior Painting and Color Selection Help
Talking to a professional interior painter can be an ideal way to nail down your plans and actually get rolling… literally. We'd invite you to reach out to the A.G. Williams Painting Company team! We're here to serve you, every step of the way.