We're continuing on with our series, focusing on ways you can prepare for your home improvement projects. Our goal is to let you inside the process a bit, learn more about our services, and make you aware of what's involved.
So far, we've covered:
Today, let's talk power washing!
Why Is Power Washing Such a Popular Service?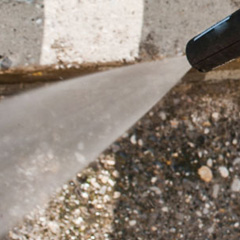 We like to describe it this way: does the rain ever clean your car as well as a thorough, professional wash and wax? Nope… The elements leave mud, streaks, corrosive debris, and other nasty stuff on your surfaces.
The same is really true for your home.
Professional power washing is an ideal way to protect and enhance your home, removing mold, mildew, dirt, and other contaminants that actually shorten the lifespan of your paint and stain. A thorough washing goes a long way, and saves you money over time. 
Power Washing Your House
Here's a look at how we ask our clients to prepare:
All cars must be moved away from your home.

All windows and doors must be closed tightly, and screens removed (if applicable), just to avoid any potential damage.

If any areas of your home are particularly susceptible to water damage or intrusion, please let us know in advance. We're experts and know how to protect your home, but if there's a weak point only you know about, we can't be held responsible.

Do you have any specialty/exotics plants or shrubs? If so, please let our crew know so that we can avoid those specific areas.

Any canvas awnings must be removed before we arrive. 

We will always make you aware of any potential risks. The volume of water produced can be tough on plants, electrical outlets, alarm systems, etc. When we meet in person we can identify these points and create an action plan to minimize any risk. 
Have a Question? Contact Us Today!
We're here to help, whether you have questions about power washing, interior painting, exterior painting, cabinet painting, or any other items on your to-do list. Give us a call!