It is a great honor to share with you that our CEO, George Williams, has received a C-Suite Award from Westfair Communications! This award is given to celebrate and recognize excellent business leaders in Westchester and Fairfield counties who have made great strides to push for success in the best (and toughest) of circumstances.
Throughout the Covid-19 shutdown, George Williams did his best to keep our team off of unemployment. He used the financial reserve within the company as well as the payroll protection plan funds that were available. He was in daily communication with his management team during the shut down, not only to discuss business, but also to talk through the feelings  of his team regarding the sudden and unexpected pandemic.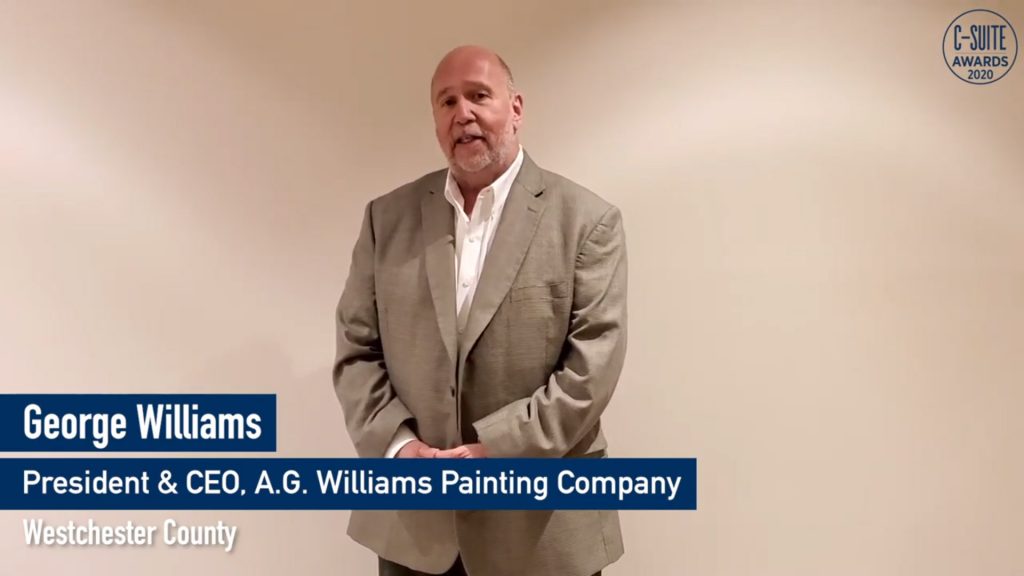 During the online award event, George Williams was sure to honor his team with these words: 
"We are very fortunate that we have a great culture at A. G. Williams. We have a great family atmosphere and a team that's stuck together… with 70 employees (currently) in the field. In any event, we are ready and more able to meet the new norm than ever before."
We are thankful to have made it through these tough times this year and to continue to see success because of our team and clients. Our team is fully prepared to continue to work safely with our clients throughout this pandemic. 
We are excited to help you achieve your painting goals too! Contact us today to discuss how we can safely bring beauty to your home or business.
We want to congratulate the other winners of this award as well. We feel honored to be in this group of prestigious business leaders!
Dental Associates of CT P.C.
Fullerton Beck LLP 
Barnum Financial Group
Progressive Computing Inc.
ENT and Allergy Associates, LLP
Atlantic Westchester Inc.
Ridge Hill
New York Medical College
Webster Financial Corporation & Webster Bank
Stamford Center for the Arts – The Palace Theatre
Burke Rehabilitation Hospital
Service After Service
Accurate Lock & Hardware Co.
Westmed Medical Group
Million Air White Plains & Million Air
Yankwitt LLP
International Seaways, Inc.
For more information about this Westfair Communications award, please check out their website and online event.