Are you tired of dropping clean laundry on your dirty concrete basement floor? What about trying to scrub stains from car fluids on your garage floor? If so, maybe it's time to consider coating your concrete floors. There are many choices to consider, such as paint. However, paint comes with problems like blistering, peeling, and contamination. You could have moisture problems as well. You could also consider an epoxy floor, but you will face some of the same issues like peeling, cratering, and moisture build up beneath the coating. Epoxy also tends to yellow in the sun. Although it may seem more cost effective to choose one of these coatings and install it yourself, the main reason concrete coating fails is because it is not installed properly. Concrete coating is just not one of those DIY projects.
This is why our Floor Coatings by A.G. Williams team uses polyurea concrete coatings.  Not only will you have experienced professionals coating your floors, but you'll also avoid the problems you face with other coatings.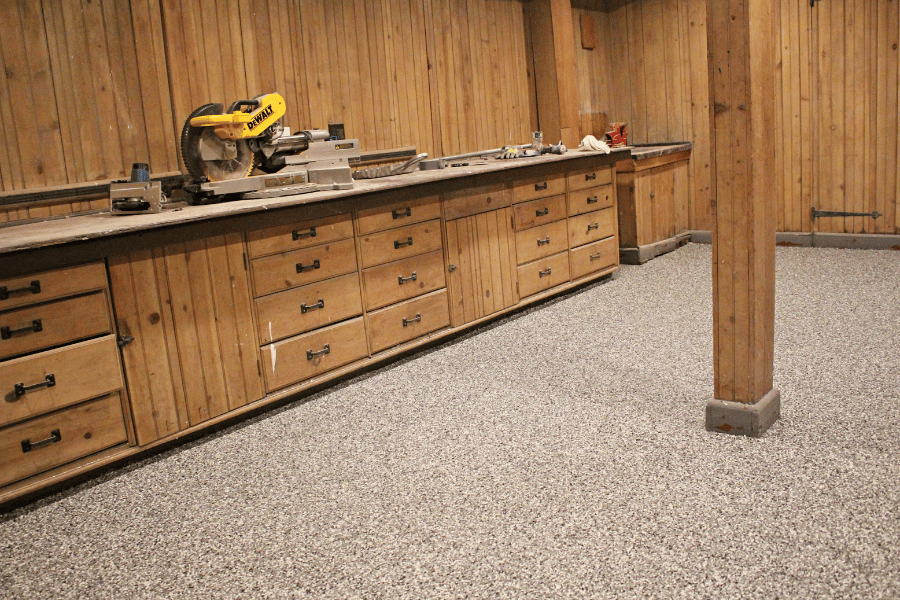 What are the benefits of a polyurea basement floor coating?
Here's a closer look:
The installers take your concrete down to a clean, smooth finish before they begin, allowing the coating to fully adhere to the concrete.
Polyurea won't fill your house with an unbearable odor because it smells more like a freshly painted room than a toxic chemical. Because of this, you can even have your floors coated in the winter when the windows are closed.
Polyurea is slip resistant thanks to vinyl chips that add texture to your floor.
Want to keep your floor clean? Simply use a broom or a microfiber dust mop. For liquid spills use a paper towel or soft cloth.
Polyurea is also heat and chemical resistant and lasts 10 years or more.
Perhaps one of the most convenient aspects of this coating is that it is dry in about 24 hours allowing you back into your space quicker.
Have more questions about basement floor coatings?
We look forward to giving you an estimate. Contact us at AG Williams Painting for more information.