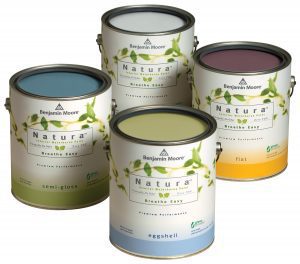 When it comes to protecting our environment, every small choice makes a difference, including which paint you buy when repainting your home. All major paint manufacturers now produce low-VOC, eco-friendly paints, and it can be difficult to know which ones to choose. So what are some of the best eco-friendly paints?
To determine the best "green paints," we at A.G. Williams look for a product that is both high in quality and low in environmental impact. One that immediately comes to mind is Benjamin Moore's AURA paint line. This premium-quality paint has zero VOC's, both in the paint base and the colorant. Produced in a vast range of colors, AURA is guaranteed to provide brilliant coverage in 2 coats. Benjamin Moore produces other excellent eco-friendly paints, including Eco-Spec and Natura. There are numerous other products available from American and foreign manufacturers:
Eco Satin Paint, by Fine Paints of Europe is good for interior and exterior woodwork. Though produced in Holland, Fine Paints of Europe is an American company with highly specialized, high-performance products.
Yolo Colorhouse, a company based in Portland, Oregon, offers premium no-VOC paints with a built-in mildewcide. Find their products at Home Depot.
Devine Color, also based in Oregon, is low-odor, Zero-VOC and claims to cover in just one coat for a beautiful finish.
Green Planet Paints produces Zero-VOC paints from non-petroleum sources, including plant resins and mineral pigments. These natural products are a bold step away from the typical and back to the traditional, with no sacrifice in quality.
For eco-friendly painting services in New York and Connecticut, contact A.G. Williams. We take great pride in our tradition of uncompromising quality and company responsibility. As a locally-owned painting contractor, we serve Larchmont, Mamaroneck, Edgemont, Irvington, Riverside, Chappaqua, Darien and nearby communities.